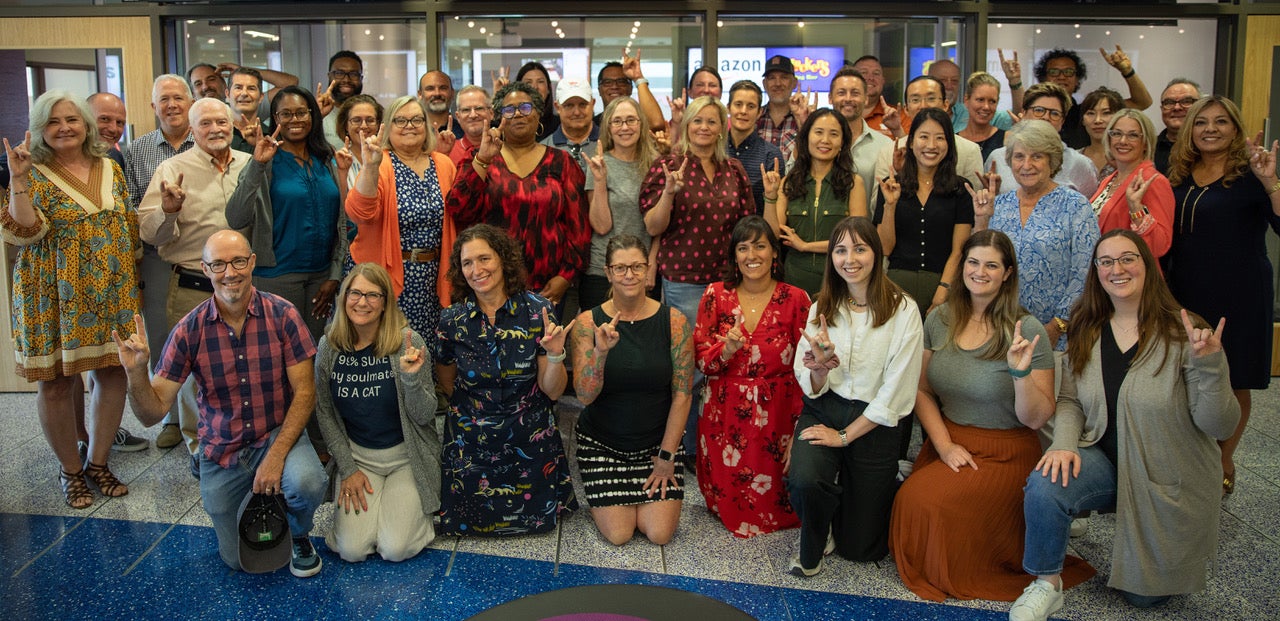 The Stan Richards School of Advertising & Public Relations' student body is served by over 30 faculty, one of the largest advertising and public relations faculty in the world. This brings the widest possible range of professional expertise and research practice to every classroom experience.
Members of our faculty have authored a number of books that are used in business and at universities throughout the world. They are continually active in studying and researching issues of professional and academic importance, and the results of these investigations appear in published literature and are presented at professional meetings. The breadth and depth of their knowledge and experience enriches the classroom and permits students to learn first-hand of the critical issues in advertising.
The subjects our faculty research are wide-ranging, but include subjects such as green advertising, event sponsorship, social media effects and analytic models, science and health communication, alcohol advertising, and consumer psychology and celebrity-endorsed advertising. Our faculty also tend to focus on subjects that hit on areas that overlap with and venture cross lines outside of public relations and advertising including morality and ethics in media and advertising, user engagement and interactive media, cause-related marketing and unstructured data analysis.
Student and Alumni Facing
Outside of their research, our faculty work hard to serve our students and help them reach their full potential in any way they can. Most professors do this one of two ways: by serving the students directly or by utilizing alumni to enrich the student experience.
A number of faculty members serve the students directly by acting as a faculty sponsor for a student organization such as Texas Tower PR or by acting as faculty advisers on agency visits to Dallas, New York City, San Francisco and Chicago. Similarly, other faculty write letters of reference for scholarships and internship/job applications and initiate industry connections with specialized organization Multicultural Advertising Internship Program (MAIP).
Another portion of our faculty focus more on enriching the student experience through alumni connections and opportunities. Examples include: inviting guest speakers to the classroom, giving individual advice and counsel on interviewing and job searching, giving personal introductions to alumni and professionals in the business and securing volunteer clients for capstone advertising and public relations classes.
Some faculty members act in both ways, but every faculty member serves in some form to help the students outside of their personal research. This gives the students abundant opportunity to develop as leaders as well as connect with faculty outside of the classroom.
Contact Us
---
Director
Natalie Tindall
Isabella Cunningham Chair
Associate Director
Laura Bright
The University of Texas at Austin
Stan Richards School of Advertising & Public Relations
300 West Dean Keeton, A1200
DMC 4.338
Austin, TX 78712
512-471-1101 main
512-471-7018 fax
email: advertising@austin.utexas.edu
---
How to Get Here & Where to Park
Stan Richards School of Advertising & Public Relations is located
in the G. B. Dealey Center for New Media (DMC) 4.338
DMC is located at the northwest corner of Dean Keeton St.
(formerly 26th Street) and Whitis Avenue.