AdGrad Jocelyn Lai to present panel at SXSW Interactive 2013
Have you ever thought, "Is this appropriate?" when reaching out to a recruiter online? Or wondered what is the best way to build a professional relationship via social networks?
These are exactly the types of questions that University of Texas Department of Advertising alumna and GSD&M talent acquisition manager Jocelyn Lai will discuss during the panel she was recently selected to present at the 2013 SXSW Interactive conference entitled "Using Your Online Network to Get a Job #IRL."
The idea blossomed while Lai was attending a SXSW networking event earlier this year, and was approached by several people who introduced themselves and noted that they had recently contacted her via social media.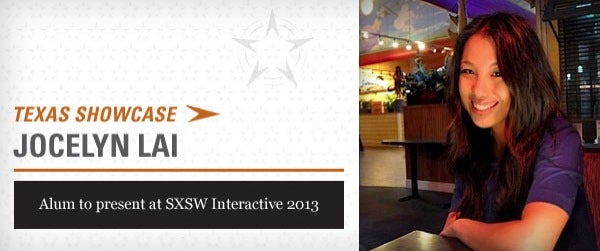 "There is this whole clashing – not in a bad way – of the virtual world of searching for a job meeting the real world of this is who the hiring manager is," she said. "What got me thinking is these online relationships actually matter a lot. I've hired tons of people from online media."
"Recruiting is all about relationships," Lai said. "And online networks have made it easier to start a relationship, to maintain a relationship and to translate it into something."
Once the idea was in place, Lai had to submit a detailed proposal to SXSW Interactive via its PanelPicker. SXSW launched PanelPicker in 2007 as a way to get the community more involved by encouraging them to submit panel ideas, as well as help determine what content is ultimately presented at the event.
Although she's had prior experience drafting proposals for SXSW panels, this is the first panel Lai applied for on her own. She noted the hardest part was finding the right co-speakers.
Justin Gignac, co-founder of WorkingNotWorking.com and a freelance art director, will join Lai for the panel in March. Coincidentally, the relationship started virtually; Lai was introduced to Gignac via text message on a recruiting trip to New York City.
When submitting their proposal, it was important to ensure the content was forward thinking from both a recruiter's and job candidate's perspective.
After the proposal was submitted, all attention turned toward garnering public support for the panel, which accounts for 30% of the selection criteria. To keep tabs on the performance of their proposal once the voting period began, Lai tracked it via digital analytics on a detailed day-over-day basis.
"It was really fun," she said. "It made [promoting the panel] a game for us."
Although both panelists leveraged their personal and professional networks during the process, Lai noted their goal is to fill the room with people they don't know.
"The purpose of the panel is to help people understand what tools are available for job-seekers and job-holders," she said. "We want to get even more people to learn about what we're doing."  
For those who aren't able to attend, Lai offered a sneak peek into her insights for those who are just beginning to navigate the virtual waters.
"If you know how to date well, you know how to use social media well," she said. "The way I see it, I am in a sense 'dating' candidates on behalf of GSD&M, and so candidates, they're essentially 'dating' us as well. If I were someone trying to seek you out with romantic interests, I wouldn't tweet with you ten times a day saying, 'Do you want to go out with me?'"
"No matter what kind of technology you're using to find a job, you have to remember what kind of the relationships you are building," she said. "It's [important] how you treat people."
The SXSW Interactive conference will take place March 8-12, 2013, and Lai and Gignac will present on Monday, March 11.
Learn more about "Using Your Online Network to Get a Job #IRL" here.