Analytics student guru lands Google internship
Looking at numbers is one thing. Looking at what the numbers mean is a whole other ballgame.
Ask any Texas AdGrad what they associate with junior advertising major Nathan Beddome and they will share the buzzword of the moment: analytics.
Beddome's an example of a department where people are at the intersection of theory and practice. He's a student in the TexasMedia Sequence and at the forefront of Texas Student Media's analytics efforts. We chatted with him before he sets off to San Fransisco to be part of Google's BOLD internship program.
Tell us about your time at UT. What are you involved in?
I transferred to UT in Fall of 2011 and declared my major as advertising. I decided to apply for the Texas Media sequence after the introduction to media class, and I've really enjoyed the program. Outside of class I also work as a student manager for Texas Student Media, where I'm helping to expand and monetize their digital presence.
Can you tell us more about the BOLD program?
The BOLD program (Building Opportunities for Leadership and Development) places students in Google's business environment across several offices, and I'll be in San Francisco office. I'll be working with the gTech Media and Technology Solutions team with research, strategy and analytics for their interactive clients. 
What was the application process like?
I applied in November and heard back about an interview in March, so it was a pretty lengthy wait. Then I had two Google Hangout interviews with my prospective managers, and received my offer a week later.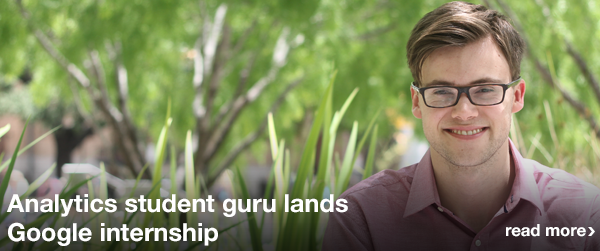 What made you want to apply to Google?
Well firstly, I wanted to apply because it is Google. I was fortunate to attend Google AdCamp in 2012, so I got a taste of the Google culture and learned a lot about their student opportunities. That experience just solidified my Google goal, and I'm really excited to start.
What do you hope to get from your time with Google?
I hope to get more experience in strategy, and I'm interested in seeing how a company as large as Google runs their business operations. I'm also pretty excited for the slide that goes between the first and second floors of the office.
What role do you see analytics playing in the advertising and PR fields?
Analytic data helps inform advertisers and clients alike about their audience behavior, helping establish tailored campaigns for maximum impact. Long story short, the more data you have, the more personalized an advertising experience becomes, ultimately driving more conversions.
Where do you think analytics is headed?
I think as advertisers are able to see more detailed data and audience demographics, we'll see more automation tools for leveraging that information.