UT NSAC Team Wins Regionals
On Thursday, April 17, 2014, The University of Texas at Austin's NSAC team won first place in the District 10 competition and will advance to semi-finals with the possibility of being selected to compete against seven other teams in the national competition taking place May. The national competition will be held as part of AAF's National Conference, convening this year in Boca Raton, Florida. The University of Texas at Austin's team won in one of the largest districts in the nation, beating out 17 schools including Texas State  University, The University of North Texas and Texas A&M University.
The National Student Advertising Competition, or NSAC, is an annual challenge sponsored by the American Advertising Federation. NSAC provides college students the opportunity to do real research for a real client and create a fully integrated communications campaign – and give a real pitch to a panel of three judges. This year's client sponsor is Mary Kay.
The University of Texas at Austin had two entire classes (one in fall 2013, one in spring 2014) devoted to the NSAC competition, which were faculty advisor Dr. John Murphy's versions of the final course for students majoring in advertising and public relations, Integrated Communications Campaigns. Both fall and spring Campaigns courses allowed undergraduates to be structured and function like an agency run entirely by students, providing students with deeper insight into how to develop a campaign from scratch.
"It was really cool to be a part of every process. We were split up into departments just like a real agency, and we saw all sides of the campaign," said senior public relations and psychology major Evan Rowley, a presenter on this year's team.
The team is filled with students who sought the team on their own, were recruited by like-minded friends, or wanted to learn from NSAC veteran faculty advisor Dr. John Murphy.
Vincent Patton, who is a senior advertising major in the Texas Creative sequence, was recruited by another team member before the start of the 2013-2014 school year. "NSAC is a really interesting opportunity that you can only do by representing UT in the national competition," said Patton. And like in the real world, the culture of smart coworkers is a draw for talent.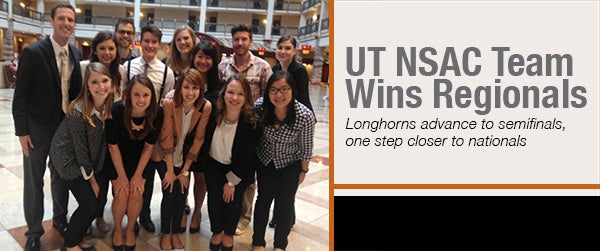 "When I found out the team at UT was all the top minds in our field here, I really wanted to work with them on a campaign that was completely student-run," said Rowley.
Led by a faculty advisor, the team worked together for two semesters to create a winning campaign. The team, made up entirely of undergraduate students, has already gained invaluable experience unlike any other. Patton said, "For me, it was really interesting to get the opportunity to do what you have been studying for the past few years exclusively."
While UT's team is hardly resting on their laurels before semifinals and the possibility of facing off against seven other schools at the national competition, the experience has been and will continue to be rewarding for the students. Rowley summarized the experience best: "The work we got to put into it was really phenomenal, really hard work, really intense, but well worth the result."
The members of the 2014 University of Texas at Austin NSAC team are, in no particular order: Ryan Warner, Aly Kasberg, Kathryn Aydelotte, Jacqui Bontke, Brandon Hollinshead, Vincent Patton, Evan Rowley, Ghada Soufan, Jordan Bustin, Jaime Cheng, Miranda Rudy, Soo Choi, Elle Hallinan Pace, Danilo Aquino, Kelsey Koentges, Carina Medua, Andy Verderosa, Jon Warner, Virginia Albert, Ali Afshar, Trent Day, Fatima Jafri, Nicole Lopez, Eric Diener, Jessica Negley, Nola Lu, Thu Nguyen, Lily Patterson, Jacob Philpott, Emma Raleigh, Devin Rogers, Melissa Russell, Riley Shine, Ali Yarborough, Stefanie Pasacio, Estevan Aviles, Mara Denton, Steeves Hopson, Ramiz Khan, Amy Lach, Cody Levy, Michelle McCloskey, Amanda McCoy, Grace Nicholas, Kristen Pankrantz and Seth Rogers.
Faculty advisors include: Dr. John Murphy, Lisa Dobias, Gene Kincaid, Sean Thompson and Terry Balagia.