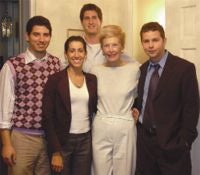 Established by the Los Angeles Times and the American Advertising Federation in 1988, the program is intended to raise awareness and understanding of advertising processes and business ethics among future advertising professionals. The honors internship program began with three intern placements in 1989.
The program's permanent endowment was moved to The University of Texas at Austin in 2003. In 2020, the sole responsibility for the program was moved to UT Austin.  The program is now housed in the Stan Richards School of Advertising & Public Relations at UT which is responsible for the stewardship of the program. 
During his 39-year career in advertising, primarily at the Los Angeles Times, Vance Stickell established himself nationally as a highly respected advertising practitioner and statesman. In addition to the many honors and awards for public service that Vance received, he served as the national President of the AAF in 1986. For more information on Vance, see the section labeled "Vance Stickell" on this website.
In 2005, Betty Lee Stickell's name was added to Vance's to honor her devotion and commitment to nurturing student participants. Betty Lee was a force of nature and her spirit and ideals continue to guide the program.
Each year approximately 20 outstanding students are selected to participate in 10-week internship programs at U.S. media organizations, advertising agencies, and client and supplier companies. In 2022, given the uncertainty created by the Covid pandemic, interns maybe be placed in either a virtual or an in-person internship. If in-person, host companies will be encouraged to pay a registration fee that will qualify their intern to receive a $1,500 scholarship to help with travel and living expenses associated with their internship.
Companies that participate in the program support the concept of advertising education and one exceptional student with leadership potential.
A Stickell Intern Discusses Her Experience in One Minute and 39 Seconds
Annie Keller, a 2017 graduate of the University of Illinois Urbana-Champaign, briefly reflects on what she learned and how this knowledge has influenced and propelled her professional career.
In Two Minutes a Faculty Advisor and an Intern Reflect on the Rewards of the Program
Lisa Dobias, the Faculty Advisor of the student ad club at The University of Texas at Austin, and Natalie Myers, a Stickell intern, briefly discuss the benefits of participation in the program.