Beginnings
Born in the small farm town of Ong, Nebraska, Vance Stickell probably had no idea that he would become internationally known for his expertise in newspaper advertising and inducted into the Advertising Hall of Fame. He did get a taste of the newspaper business, however, before the age of ten, selling local newspapers in his hometown.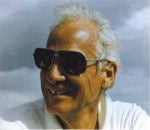 His career took a detour when he joined the Navy and was selected for a special V5 program. In this program he was sent to De Pauw University where he enrolled as a pre-med major. After the V5 program was shut down, he was sent to Kwajalein where he set up a base hospital. After returning to civilian life, he graduated from DePauw in 1948, and while waiting to enter medical school, a friend encouraged him to have lunch with an executive from the Los Angeles Times. Unexpectedly, Mr. Stickell had found his passion.
Career at The Times
Mr. Stickell began working at The Times soliciting ads from grocery stores. With his strong work ethic and outgoing demeanor, he worked his way up in the company to head of Display Advertising in 1961. Ultimately Mr. Stickell became the Executive Vice President of Marketing. His responsibilities included all aspects of the business operations of The Times. Given his broad responsibilities, Mr. and Mrs. Stickell became The Times' ambassadors at a wide range of local, national, and international events.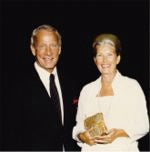 Under Mr. Stickell's leadership, The Times experienced record breaking profits and became the national leader in advertising revenue. Mr. Stickell has been described as a creative visionary, and rightfully so.
He pioneered many industry-wide improvements including syndicated audience research, the standardization of page sizes and formats, discounts for national advertisers and the now common practice of advertising in geographic zones.
Leadership and Accolades
Mr. Stickell ended up leading virtually every organization he joined. Aside from his demanding position at The Times, he demonstrated his natural ability to lead, most notably as Chairman of the American Advertising Federation (AAF), Chairman of the Newspaper Advertising Bureau's Planning Committee, and Chairman of the Council of Judges for the Advertising Hall of Fame. He received the AAF Silver Medal Award in 1986 for his innovative thinking and outstanding contribution to the industry and community.
Community Involvement
Somehow, Mr. Stickell made time to immerse himself in his community and served in leadership roles in numerous philanthropies. As Chairman of the Los Angeles chapter of the Red Cross, he helped raise millions of dollars and erected a new headquarters building.
Leaving a Legacy
At Vance Stickell's induction into the Advertising Hall of Fame, Tom Johnson, former Publisher and Chief Executive Officer of the Los Angeles Times, shared some thoughts on his friend and colleague. "Vance was a Hall-of-Famer in every aspect of his life...he loved Betty Lee, his wife of 34 years...he loved his chosen profession of newspaper advertising...he was recognized and respected as a major civic leader in the Los Angeles community and he inspired excellence and commitment in virtually everyone that he met."
Throughout his 39-year career, Mr. Stickell accomplished a great deal. He was an inspiring leader who genuinely loved his business and everyone he worked with. The Vance and Betty Lee Stickell Honors Student Internship Program is a fitting tribute to both his memory and his partnership with his loving wife Betty Lee.
Read more and watch videos about Vance Stickell on the AAF Website (click here).