Creating the next generation of Advertising & Public Relations Leaders
Our school of advertising & public relations is one of the largest, most prestigious in the nation. It has consistently been ranked one of the top three advertising programs over the past 20 years by employers and competitors alike.
Our mission is to continually seek ways to train and empower students, staff and faculty of all ethnicities, races, genders and identities to work collaboratively to produce world-changing campaigns and research.
From challenging degree requirements to our priority of intertwining as much of the "real world" as possible in the classroom, our school is committed to providing the tools needed to create the next leaders in advertising and PR.
Degrees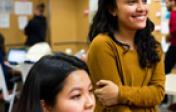 Advertising
A program that prepares students for a wide variety of careers in advertising, from the artistic and creative side of things, to the business of media planning in traditional and interactive realms.
Public Relations
A public relations program with a focus on strategic thinking, professional writing, ethical practice and innovative use of new media prepares students to become professional communicators in a variety of settings.