The Addys ft. Our Very Own Claire Glover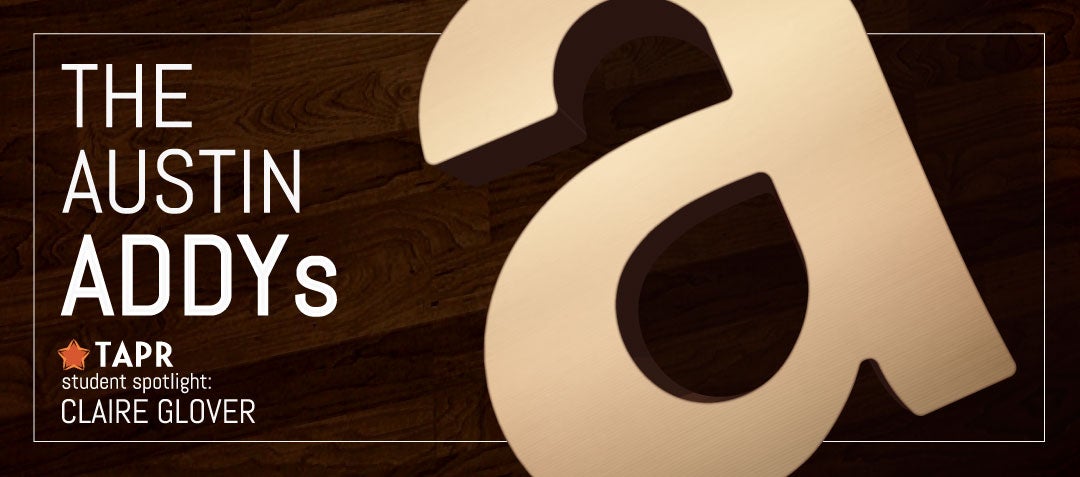 Each year, the Austin Advertising Federation host the "Addys," a preliminary competition to regional and national American Advertising Awards. Sponsored by the American Advertising Federation, the Addys is the advertising industry's largest creative competition with over 40,000 entries each year.  
The competition consists of two divisions: one for professionals and one for students. The first division consists of work submitted by local agencies and design shops, and the second gives students, like Claire Glover, the opportunity to showcase their skills, and get their work noticed.
"I decided to just go for it since it's my final year at UT, so I submitted three campaigns" said Claire, a second-year Master's in Advertising student with a focus in Art Direction.
Over the years, Texas Creative students in the Stan Richard's School of Advertising have been known for their outstanding submissions. Students can submit work in multiple categories, including print, digital, TV, radio, packaging design, art direction, and copywriting, just to name a few. The judging panel, made of experienced advertising professionals, evaluate and score the submissions based on all of its creative dimensions.
This year, Claire submitted three pieces of creative work as an art director and received awards for all three. She was awarded a silver Addy for her Travel Channel print campaign and bronze Addys for her S'well Bottles print campaign and Bulldog Skincare integrated campaign.
Claire is just one of many Texas Creative students that have been honored by the Austin Advertising Federation. Sixteen students were also awarded including: Nathan Tamburello, Amanda Whitehead, Reema Kakaday, Sam Hoffman, Danny Kapilivsky, Jacqueline Byrne, Thanh Ly, Chenglei Wu, Julia Waicberg, Mariah Dempsey, Kat Akin, Reid Womack, David Resnick, Nicole Lewis, Hannah Dobbs and Sophie Kollaja. This achievement truly highlights the enormous amount of talent in the Texas Creative program.
"As cliche as it sounds, I can't pick which campaign is my favorite. They all are!", she said. "I was just really grateful to have my work recognized by such an influential group of judges."  
Claire is currently working as a graphic designer for the McCombs School of Business MBA Office. After graduating in May, Claire hopes to work as a designer or junior art director at an agency here in Austin.
Check out her work and more here.