Advertising Expert Boosts Students' Opportunities with Critiques
As Creatives know, their portfolio is the golden ticket to the best job opportunities.
So for the Advertising students in the Stan Richards School of Advertising & Public Relations, having their portfolios critiqued by an industry veteran was a boost to realizing those opportunities.
In preparing for the critique, Texas Creative junior Preethi Balakrishnan made sure her portfolio was up-to-date as well as studied the background of the industry expert. She learned that Rich Levy is a 25-year advertising veteran who has spent almost six years as the Chief Creative Officer for FCB Health, a New York City based advertising agency that works with consumers, patients, and healthcare professionals. Previously, Levy had worked as creative director for agencies including Ogilvy CommonHealth Worldwide, Dentsu Corporation of America, and Saatchi & Saatchi Advertising.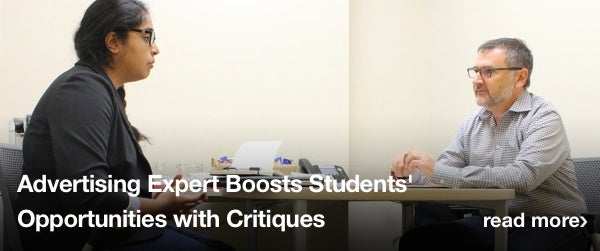 He was on campus September 22 to conduct portfolio reviews and speak about healthcare advertising as a career path for a special presentation sponsored by Career Services in the Moody College of Communication.
Students who met with Levy appreciated his insights and straightforward suggestions for improving their portfolios. Some students will change the structure of their portfolio to showcase their favorite campaigns. Others will make their websites more personable.
"As an aspiring art director, my portfolio is the one thing that really matters," Balakrishnan said. "So getting feedback is the most important thing."
Thanh Ly, a senior in Texas Creative, saw the critique as an opportunity to re-examine the role of storytelling in visual art.
"There's a lot to think about when you want to be an art director," Ly said. "It's not all about the design, but also the message through the art. It's nice to have another set of eyes to look at my portfolio."
For Levy, the experience showcased how well the Richards School prepares its students for the real world, not just the academic environment. And providing opportunities for students to hear from voices outside academia will only make them stronger job candidates.
The key take-away for students, Levy said, is never settling. "Advertising is ten percent inspiration and ninety percent perspiration. Don't settle for good. A lot of people stop at good, and they never get to great."
Photo Credit: Olive Liu