Dr. Upshaw Talks Health Communication
This week, TXADPR welcomed Dr. Sean J. Upshaw to the Stan Richards School of Advertising and Public Relations. Dr. Upshaw is UT's newest assistant professor of visual information and persuasion in health communication in Moody College. He represents his alma mater, Howard University, as an Edward Alexander Bouchet Scholar, a highly competitive conference and honor society for doctoral students in their fourth year.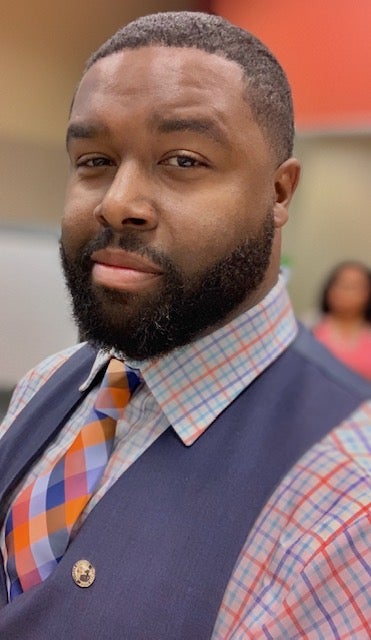 This semester, Dr. Upshaw is teaching Digital Graphic Communication, a class for students to gain hands-on experience in digital-related content and understand its unique relationship to the human communication experience. Students will receive an introductory basis to photo and design software like Adobe Photoshop, InDesign and Illustrator.
In Dr. Upshaw's teachings, he includes his own creative spin. "One thing I'm adding to the course already is a lens on social marketing and how that is used as a gateway for digital content creation, promotion and branding." He believes that creativity is the essence of human ingenuity.
"What you bring, how you see it and what others will get from it" is what Dr. Upshaw strives for his students to learn. Content that is "an embodiment of creativity with an evidence-based approach that combines science and art" is what resonates with people. 
But there's not just one perspective. "The most intriguing part of creativity is that there are no limits to it," said Dr. Upshaw. "Others will find ways to connect to you… to interpret and engage with you in many contexts."
This mindset relates to Dr. Upshaw's research in health disparity and communication, an area that examines how, what and why underserved populations, particularly minority populations, engage with health disparity content and decision-making. He analyzes public health and medical communication to teach students how people demonstrate certain behaviors and what behaviors audiences will adopt when interacting with digital content.
Dr. Upshaw's interest in researching health disparity and communication in the context of visual information and persuasion was sparked from the overwhelming presence of prostate cancer among men. It was "particularly the lack of conversation and exposure to survivorship among African American men" that led him to examine existing content on testing, resources and scientific information. 
 For prostate cancer survivors, Dr. Upshaw said that there is a shortage of "representation, voices and experiences that can enhance a lot of visual information and decision making," a crucial element in increasing men of color's participation in clinical trials.
Though COVID-19 has been a recent barrier in launching research, Dr. Upshaw "absolutely" plans to continue brainstorming with colleagues. He even plans on collaborating with other Moody faculty, particularly the Radio-Television-Film, Communication Studies and Communication and Leadership departments. Research will include studying video narratives, advertising during COVID-19 and how well messages articulate a leadership call when embarking on decision-making for underserved groups. 
To Dr. Upshaw, "it really is a collaborative effort" that can contribute to both Austin as well as the UT community. 
He also offered advice to students interested in conducting their own research. "The one thing I would tell people; your strategy or your behavior or mindset to research is based on how well you can manage your time." Dr. Upshaw knows that "burnout is a real thing," so he encourages others to do things in small parts. "I will break up those small parts over days, and then move on once it has been completed." 
 "The idea is that you are always working towards something, towards the end," said Dr. Upshaw. "You've got to find your own rhythm." 
For now, Dr. Upshaw looks forward to being more engaging with students and colleagues at UT and "making an impact where I am."