Experience The World of Immersive: Texas Immersive Open House on September 6th, 2023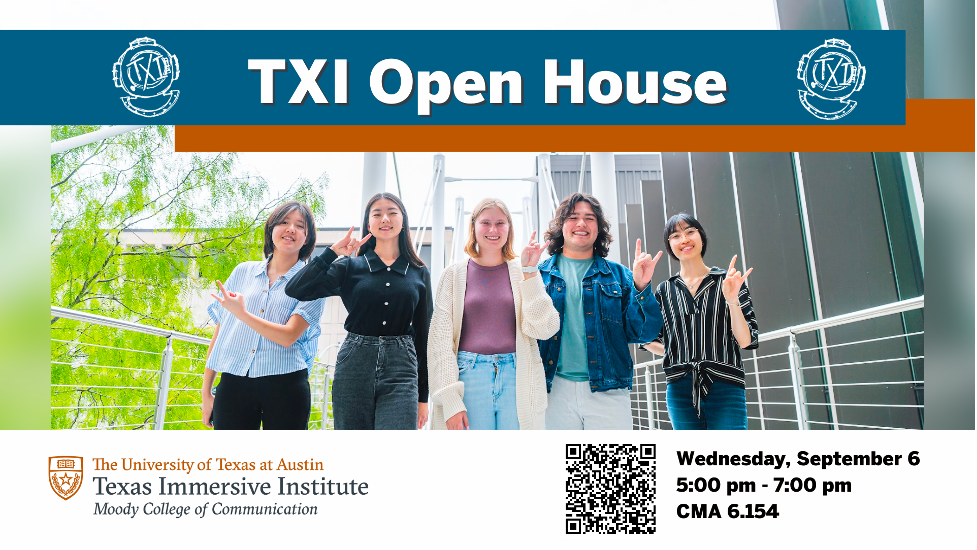 Students of UT, people of Austin, tech enthusiasts, and anyone looking for a new experience! The students, faculty, staff, and alumni of the Texas Immersive Institute (TXI) are opening the doors to the world of experiential and immersive technology for us all through the TXI Open House Event on Wednesday, September 6, 2023, at the Jesse H. Jones Communication Center Building A.
What is the TXI Open House Event about? Who is it for?
For students looking to explore the Texas Immersive stream, there is a showcase of all the past, ongoing, and upcoming immersive projects presented by TXI students and alumni. Engage in intriguing conversations with the creators themselves, and ask any and every question you may have regarding their experiences. You are also up for some fun announcements and a sneak peek into the new immersive experiences coming this school year! 
Students or not, all the attendees get a chance to play with Virtual Reality (VR) and Augmented Reality (AR) technology through games like the Oculus Quest 2 and the 8th Wall AR demo experiences. Games are not your thing? Just come and chat with the people of TXI about their journey into the fascinating world of immersive. All in all, there is something for everyone.
When and where is the TXI Open House?
Date: September 6th, 2023 (Wednesday)
Time: 5 to 7 pm
Venue: The Texas Immersive Lab (CMA 6.154) on the 6th floor of Jesse H. Jones Communication Center Building A, 2504 Whitis Ave, Austin, TX 78705 
Link to register: https://www.eventbrite.com/e/texas-immersive-institute-open-house-tickets-704644188737?aff=oddtdtcreator
If your 5 p.m. next Wednesday is canceled last minute, do not hesitate to just show up at the TXI Open House. RSVP is not compulsory.
A little about the Texas Immersive Institute (TXI)
Texas Immersive Institute (TXI) is a program within the Moody College of Communication at the University of Texas at Austin designed to help students create immersive experiences that are intimate, interactive, and experiential, to engage audiences and build brands. TXI's goal is to imagine the unknown into existence through the practice of immersion. Through its coursework, interactive events, and technology-rich lab, TXI ensures its community will live at the intersection of culture and commerce such that consumers can engage through a blend of physical, digital, and voice environments, with ease.
The most unique thing about TXI is the democracy of its course sequence. It is open to all students, irrespective of whether they are graduates or undergraduates, their majors and backgrounds, or their level of experience. You just have to be an explorer, thrilled by the emerging immersive technology like virtual, augmented, or mixed reality, AI, Haptics technology, etc., and interested in playing with, exploring, and learning about them. The program entails three required TXI courses and several design and research opportunities outside of the coursework. 
How to learn more about the TXI?
The people of TXI - students, staff, and faculty, are always available to meet with and guide the students of Texas Immersive, and anyone who might be interested in or want to know more about the program. The Program Manager of TXI, Azalea Laredo shares her favorite part of being associated with the department - 
"I love to be able to help put students' fantastic work out for the UT and Austin community to experience. All of our explorers work incredibly hard to write, design, and create immersive experiences and projects. I want to make sure our audiences get access to those projects and share them with the community. " 
She is TXI's behind-the-scenes star, managing all the general operations of the program including communication, event planning, development, outreach, running the TXI lab, and managing and training student staff and volunteers. Feel free to direct any questions about the TXI program to her, Professor Erin Reilly (Founding Director of the Texas Immersive Institute and Professor of Practice), and Jordan Prather, Administrative Associate.
You can also get an insider's view of the TXI experience by scheduling an appointment to visit the TXI Lab with Phoebe Lin, Lab Manager. The student team at TXI is also highly involved with the program and is ever-enthusiastic to converse with prospective students and share their stories, experiences, and insights. Get in touch with AJ Hurtado, Teaching Assistant to learn more about student experiences or connect with current TXI students.
The best way to stay up to date on everything TXI is by following them on Instagram, subscribing to their newsletter, or joining the Discord community. For more about TXI, check out: https://linktr.ee/texasimmersive. See you at the TXI Open House!