Honoring Dr. John Murphy: Southwest Advertising Hall of Fame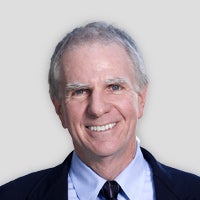 Professor Emeritus, Dr. John Murphy has committed his life to the advertising profession and to passing on his knowledge to students at The Stan Richards School at The University of Texas at Austin. This year, he will be honored with induction into the distinguished Southwest Advertising Hall of Fame.
Dr. Murphy's decorative career spans decades in both the industry and academia. He has worked in different aspects of the industry, including advertising sales, marketing and strategic planning. His substantial body of research has culminated in multiple academic textbooks and articles published in the Journal of Business, Journal of Business Research, Journal of Advertising, Journal of Marketing Education, among others. Dr. Murphy has supported the American Advertising Federation (AAF) in countless ways, including serving on the board of directors, supporting the National Advertising Student Competition with multiple national wins, and acting as coordinator for the Vance & Betty Lee Stickell Student Internship Program. His passion and years of dedication have earned him 15 awards and recognitions for outstanding teaching. The Hall of Fame induction recognizes an exceptional career and celebrates a lifetime of achievement.
"John Murphy has been one of the main pillars on which our school was built and grew for the past 40 years." --Isabella Cunningham, Ph.D. Ernest A. Sharpe Centennial Professor in Communication
The Southwest Advertising Hall of Fame consists of an elite group of individuals who have made tremendous contributions to the advertising industry. It is sponsored by the Tenth District of the American Advertising Federation (AAF), which includes Texas, Louisiana, Oklahoma and Arkansas. AAF-Fort Worth will host an inductee ceremony recognizing the eleventh class of this Hall of Fame. Inductees for this year include the founders of GSD&M in Austin (Roy Spence, Judy Trabulsi, Tim McClure, Steve Gurasich), the founders of Stone Ward in Little Rock (Larry Stone and Millie Ward), Jim Moroney, Roger Rienstra, Ann Iverson, Rick De Julio, and our own Dr. John Murphy from the University of Texas at Austin. The ceremonial dinner will be held on Friday, April 7, 2017 at the Historic Hilton in conjunction with the annual convention presented by the AAF Tenth District.
Tell me a little about this induction and what it means to you.
"First, this is a most unexpected and humbling turn of events. I am honored and pleased. I believe my receiving this honor is based on my work with students from The University of Texas and from around the country. Second, this recognition stems from two aspects of my work with students: (1) my 41 years of involvement with the AAF including as a faculty sponsor of 12 UT National Student Advertising Competition teams; and, (2) my long-term work as the program coordinator of the AAF's Vance and Betty Lee Stickell internship program. I have helped place 282 students 1989-2016."
Is there anyone that helped you along the way that you'd like to thank?
"Sue Murphy, my wife for 49 years, has been my most important supporter and a constant good influence on everything I do. Bill Cunningham, who was my PhD supervisor here at UT going back to 1971. Bill has been a constant mentor, friend and role model. Also, Isabella Cunningham whom I have worked with since 1975 to build what is now the Stan Richards School of Advertising & Public Relations."
Any words of advice to aspiring advertisers from someone with such a decorated career?
"The key to success is to love what you are doing and enthusiasm. In terms of success in persuasive communication, including advertising, I suggest that you think different, be simple, be specific, be believable, be relevant, be likable, and be consistent over the long haul."
Any additional thoughts you would like to share?
"Four people associated with the business whose work I have studied and that I particularly admire are David Ogilvy, Bill Bernbach, Steve Jobs and Stan Richards."
Dr. Murphy and the rest of these individuals have distinguished themselves among their peers in their careers, their contributions to advertising and in their volunteerism. Their long-standing reputations are the product of hard work: something we can all respect and strive for. Then have spent a lifetime serving as thought leaders in this dynamic industry, and the Southwest Advertising Hall of Fame is privileged to honor them.