How P. Terry's Won Austin's Heart
Patrick Terry, founder of P. Terry's Burger Stand, visits The Stan Richards School of Advertising and Public Relations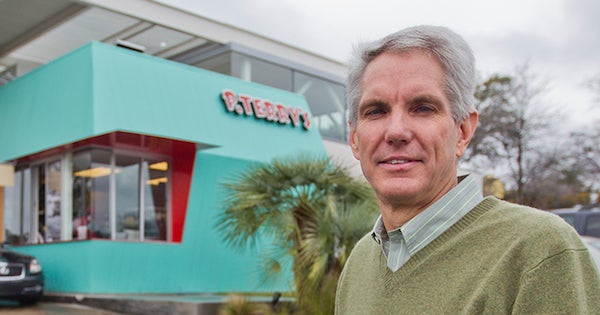 One of the many perks of being a student in The Stan Richards School of Advertising and Public Relations is the guest speakers and alumni you are exposed to in classes and events. From agency gurus to business owners, you are destined to find a gem of advice in the countless opportunities made available. Patrick Terry, owner of the P. Terry's franchise, came to the college to provide insight into his insane success with the food chain and the path it took for him to get there.
Known for its low prices and great quality, P. Terry's is part of the Austin culture and its success is marketed off of this simple fact. In its beginnings at the corner of Barton Springs and South Lamar, Terry and his wife Kathy set the blueprint for all locations to come- great ingredients, excellent customer service, and unmatched care for the employees. These characteristics, along with transparency and determination, have been the path the franchise has followed till this day.
Along with insights into his success, Terry was sure to be honest with the audience on tips he has picked up along the way. Touching on his fear of failure and past mishaps, his ability to be transparent gave a reassuring pat on the back to students who wished to follow in the alumni's footsteps. A major theme throughout all points mentioned was the importance of taking care of those who take care of you.
Patrick Terry is looking for a new adventure. With P. Terry's opening new locations throughout Texas, this revelation led him and his wife to begin a new venture- Taco Ranch. Following similar ideals as his humble beginnings with P. Terry's, the focus is on great ingredients and great prices. "We're under no illusion that there are plenty of taco places," he previously told Eater, "but we believe that there is a niche in the marketplace that has not been filled." A new location on Martin Luther King Jr. Blvd. recently opened, and hopes to cater UT Austin students and the local community.
Austinites will never get tired of seeing the familiar red and green P. Terry's signs all across the city, and know the standard they can expect from any location. Patrick Terry's devotion to educating young professionals puts the idea of entrepreneurship into perspective for many. Learning from his path is a great start, and the first step is simple- be a good person.