It's here! The Moody College of Communication's Fall 2023 Career Expo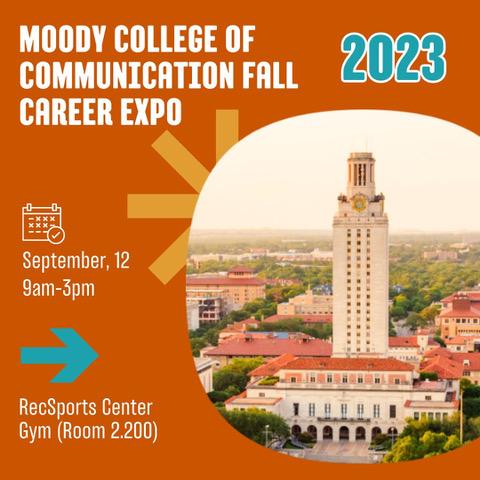 Moody folks! Here is one of the most awaited gateways for your career launch. On Tuesday, September 12th from 11 a.m. - 3 p.m., the Moody College of Communication is hosting the Fall 2023 Career Expo at UT's RecSports Center Gym (RSC 2.200). Employers from numerous companies are looking to recruit graduate and undergraduate students for internships and full-time roles. While the companies visiting are aligned to the Journalism, Public Relations, Advertising, Communication Studies, Radio-Television-Film, Communication & Leadership, and Speech, Language, and Hearing Sciences majors, this event is open to all UT students.
Whether you are a freshman, sophomore, junior, senior, or graduate student, the Career Expo offers the opportunity to interact with recruiters, learn about work and company culture, discuss your career goals, and explore how you can pave your path for your most desired future. Even if you are not currently looking for an internship or job, attending the Career Expo is a great way to expand your network in your desired field of interest and discover more about the various other communication-related opportunities in the market. 
Now you might be wondering, "How should I prepare for this career expo?" While there is no right or wrong way to prepare, here are a few tips you can accommodate to help ease this daunting process. A good place to start would be by checking the list of companies that are attending the Career Expo and shortlisting the specific ones you would like to meet with. Second, conducting research on these companies, their values, the job description, and how much they align with your goals and aspirations will guide you in tuning your resume/CV and your 30-second to 1-minute elevator pitch, according to your target companies. Ensure that your elevator pitch reveals who you are, your interest in the company/role, why you are a good fit, and how this job will elevate your career goals. Keep this as quick, impactful, and memorable as you can since there are fellow students who also want these recruiters' time, and you want to make it easy for your recruiters to be able to remember you among these thousand other students they will meet throughout the day. These two preparatory steps can be time-consuming and overwhelming. So, feel free to seek guidance by scheduling an appointment with our career advisors at the Moody Career Center.
As important as it is for you to be a good fit for a company, you should also learn if the company is a good fit for you. So feel free to ask recruiters specific questions about the company's mission, values, culture, and anything that matters to you, to aid you in understanding the company better. We suggest that you write these questions down beforehand as it will come in handy when you are going to be meeting multiple recruiters in a single day. Lastly, make it a point to review the expo's layout map to familiarize yourself with each company's booth and plan the sequence in which you would like to visit them. Keep in mind that you may need to adapt and make alterations to this plan based on the crowd, queue lengths, and your schedule. Now that you are well-prepared, let that excitement take over the anxiousness, and remember to enjoy the process!  
Block your calendars from 11 a.m. to 3 p.m. on September 12th, 2023 for the Moody College of Communication's Fall 2023 Career Expo is coming. For more information about the expo, including registration, attendance confirmation, and the list of the companies, check under the 'Events' tab on Handshake. Best of luck!