Navigating the Job Market: Strategies for Recent Graduates in Communication, Advertising, Marketing, and Related Industries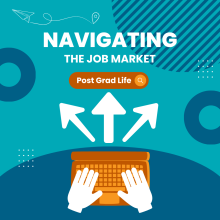 Graduating from college is a significant milestone, but for many recent graduates, it signifies the start of their job search.
The job market can be an intimidating place, particularly in dynamic and competitive fields like communication, advertising, marketing, and related industries. However, there are actionable steps and valuable advice that can enhance this journey. 
I had the opportunity to speak with Paulina, a 22-year-old recent graduate from Moody College of Communications. With a degree in Public Relations and a minor in Media and Entertainment, she offers valuable insights into the strategies and challenges faced by recent graduates while navigating these dynamic industries. Paulina has successfully established herself in the competitive field of public relations, securing a position with a prominent PR agency. 
Paulina began exploring the world of internships early on, leveraging the resources and tools provided by Moody College. Her first internship opportunity came through the UTLA program, an important milestone that significantly boosted her confidence and provided invaluable learning experiences. However, Paulina acknowledges that searching for internships and searching for jobs can differ. She recommends connecting with companies of interest on LinkedIn and conducting informational interviews to keep these organizations on your radar. Paulina's proficiency in Spanish also played a crucial role in setting her apart from others, showcasing her unique skills. 
She encourages recent graduates to actively leverage their alumni network by reaching out and connecting with UT alumni on LinkedIn. Paulina often sends messages to initiate valuable conversations, acknowledging the willingness of fellow Longhorns to assist one another. During her job search, Paulina relied on LinkedIn and Indeed as her go-to platforms. She highlights LinkedIn's feature that allows you to identify who posted a job, enabling you to reach out directly to the hiring manager or recruiter. This personalized approach can make you stand out as a Candidate. 
When it comes to crafting resumes and cover letters, Paulina emphasizes the importance of tailoring them for each application. She suggests placing the experience section at the top of your resume instead of the education section, as relevant experience often carries significant weight with employers. Additionally, a well-crafted cover letter is crucial, and Paulina advises researching each company thoroughly to customize your application materials accordingly. Recent graduates should emphasize strong oral and written communication skills, relationship-building abilities, and attention to detail. 
Paulina shares the uncertainty she faced in the job market, particularly the unknowns surrounding finding a job that truly resonated with her. Her internships helped her narrow down her preferences, leading her to become more selective in her job applications. She recalls dedicating entire days to job searching, promptly applying for positions as soon as they were posted. 
The competitive landscape presented a challenge, with numerous qualified applicants vying for the same positions. Paulina encourages everyone to exercise patience and seek a role that fulfills and aligns with their interests, rather than settling for any available job. Her final piece of advice for recent graduates is to pursue their passion. The early years of one's career are meant for exploration and discovery, and she encourages graduates not to settle for a job that does not align with their interests. In her own words, "Do what you love".