Public Enemy's Harry Allen Discusses His Controversial PR Career
During a recent campus visit, Harry Allen, journalist and hip-hop activist, shared some advice with public relations students on how to write news releases and pitches that get noticed: evoke an emotional response in your reader.
And as former "Media Assassin" for the legendary rap group Public Enemy, and a key member of the public affairs team for Rockstar Games, Allen knows a thing or two about how to create emotion in your audience while standing your ground on controversial issues.
Speaking to students in Dave Junker's Public Relations Techniques class, Allen recounted his years as "director of enemy relations" for Public Enemy and occasional contributor to the group's tracks, including the closing refrain from "Don't Believe the Hype."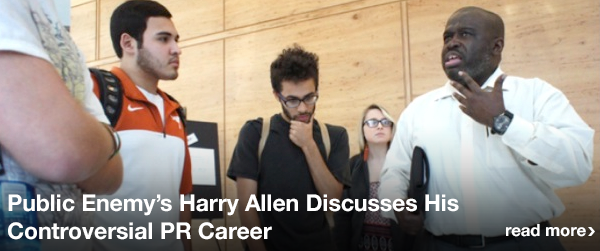 Formed in 1982, and led by Chuck D and Flavor Flav, Public Enemy is known for politically charged lyrics focused on the frustrations and concerns of the African American community. Allen helped the group navigate media outrage and correct misconceptions about the group's confrontational politics.
"What Public Enemy needed was someone who really understood their values and aesthetics," Allen said. "They needed someone to speak out and work with controversial material, explain it, and not be thrown off message."
It was this ability to work with controversial material that landed Allen a position at Rockstar Games in 2004. For two years, Allen worked for the videogame developer and publisher to educate non-gamers on the company and its products, including the contentious Grand Theft Auto series.
 "We committed to telling our story, the art, the passion, the humor, the technology, and the design that went into making the games," Allen said. "In short, I loved it. You had to bring your A game every day, and you had to work with a culture in which you believed."
For both Rockstar Games and Public Enemy, Allen embraced the challenge of getting the public to understand a controversial culture.
"The cool thing with working with Public Enemy and Rockstar Games was watching the world change from the inside as our efforts were slowly being shown," Allen said.
Today, Allen writes about race, politics and culture in his blog, Media Assassin. He also contributes to publications such as VIBE and The Village Voice, hosts and produces a weekly radio show in New York, and is an advisor to the Archives of African American Music and Culture at Indiana University.