Student Highlight: Briana Stubblefield
Hi! My name is Briana Stubblefield and I am from San Antonio, Texas. I am a current senior majoring in Advertising and minoring in Business. Some roles that I have on campus are a stylist in Hook'd Magazine, a reading buddy in SEAL (Students Expanding Austin Literacy), and a mentee in TAG!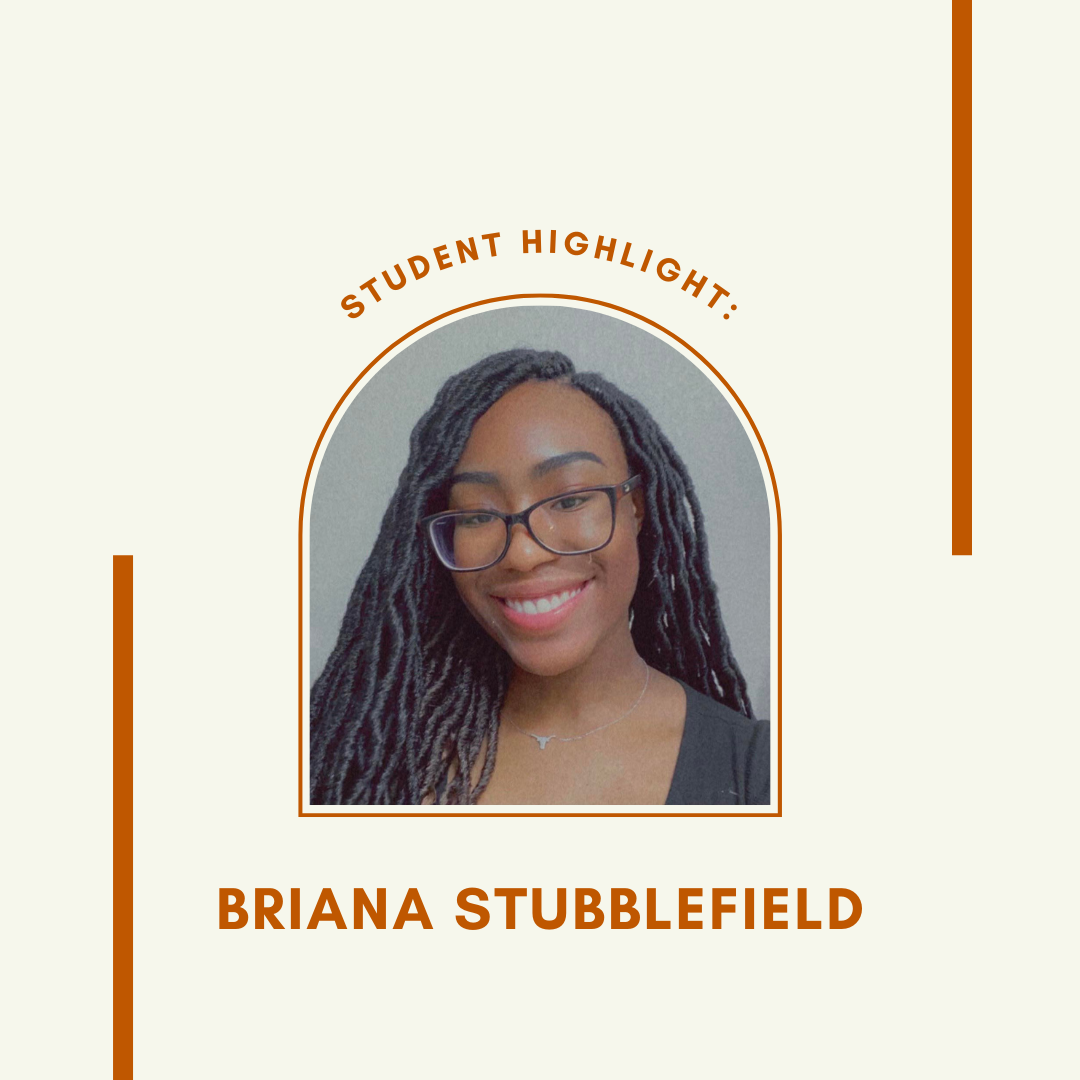 What made you decide to come to UT?
I decided to come to UT because I sought a place where I could not only grow academically but personally as well. With all of the resources offered from mental health to career services, UT is a place that sets its students up for success. There is ample opportunity to engage with your professors and fellow students to build long-lasting connections/relationships.
What is your favorite part of being a Moody student?
My favorite part about being a Moody student is the sense of community, camaraderie, and collaboration. Every student can play a vital role in making Moody a college of their desired goals and you're not alone while doing it!
What current projects/internships are you doing right now? Or any past experiences you have had while being a Moody student.
While being a Moody student I've had my fair share of projects/internships. I am currently an Admissions Data Entry Student Associate which involves inputting high school transcript coursework into the system for applicants going into UT, and I also had two internships this past summer! One was a Marketing Micro Internship with Upkey where we became equipped with the knowledge and fundamental skills to create and optimize a targeted ad campaign and my other internship was a Strategy Bootcamp Internship with Camp + King, an advertising agency based in San Francisco, where I and one other intern had the opportunity to put together a full strategy presentation on a new client, a creative brief, and a thought leadership article published to their blog and social channels.
How does your experience in classes/programs help you with outside projects/jobs/internships?
My experience in classes/programs has helped me with outside projects, jobs, and internships by allowing me to truly immerse myself in industry roles. For example, in Intro to Advertising Creativity with Professor Rao, I was able to try on different hats where I became a copywriter, strategist, and art director at least once for each project. That class taught me to not pigeonhole myself too early. That lesson carried into my internships this past summer and demonstrated to me that there are many avenues you can go down in the ad industry.
How will being a Moody student help to make you stand apart in future jobs? or what are your plans after graduation?
Being a Moody student will help me stand apart in future jobs because Moody College of Communication is #2 in Communication and Media Studies in the United States. It will leave me fully equipped with the fundamentals of research, knowledge of public service, and the needed resources on diversity, equity, and inclusion to create initiatives wherever I go.
Do you have any advice for future/current students?
As a transfer student, I imagined the journey towards getting my degree at UT would be challenging because I have not been at the university since day 1 of my freshman year. I had to take a step back and really get out of my own head because I was in an uphill battle with myself. I then remembered that through grit, life can be a marathon, not a sprint. So, if I could give any advice to future/current students, it is that applying grit to everything you do can ensure that you achieve your academic goals with not only proficiency but with grace. You deserve to be here!