The Top Advertising & Public Relations Program in the U.S. in 2021
The University of Texas at Austin (UT) bachelor's Advertising & Public Relations program has been ranked the #1 program in the nation by College Factual in 2021.
"The undergrad PR program at the Moody College of Communications is characterized by the people that are a part of it," Spring 2021 graduate, Rissa Broudy, explained. "The instructors offer insights from their own research initiatives, and the talented alumni provide an opportunity to talk with some of the industry's most successful players."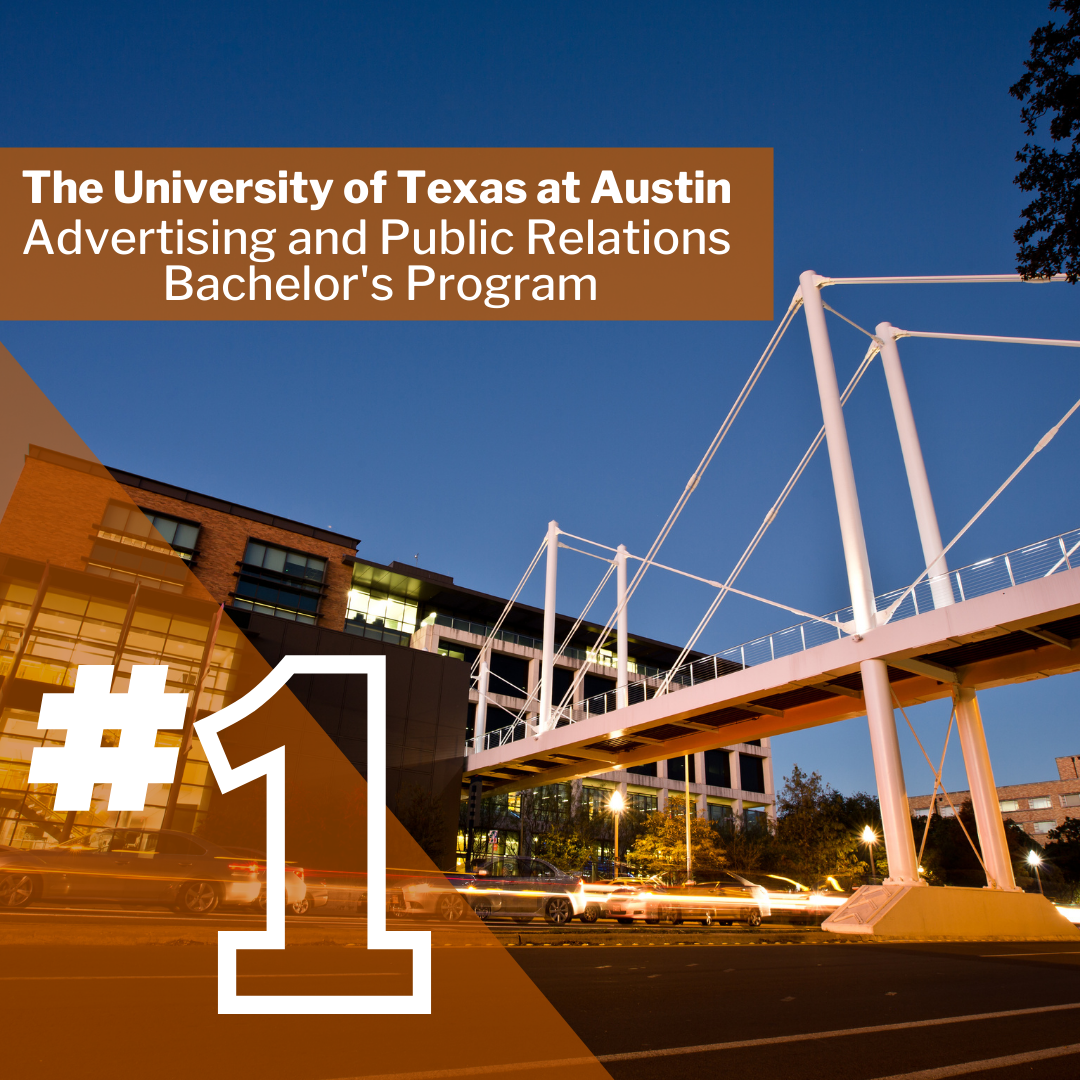 Each year, College Factual, a company dedicated to providing information to incoming college students about higher education opportunities, releases ranking colleges, universities, and academic programs. They calculate the rankings using data, current trends, and questions to notable industry professionals. After analyzing 20 factors across 111 colleges and universities, they determined that The University of Texas at Austin is the number one bachelor's in Advertising & Public Relations program in the U.S. in 2021. 
Heley Patel, an incoming RGM Analyst at L'Oréal and Spring 2021 Public Relations graduate, praised the program for setting her up for success. "Being a PR major opened the door for me in more ways than I had imagined," she said. "The coursework and project expectations really set me up for success in the workplace and made me more confident in my public speaking and brand management skills."
UT's Advertising & Public Relations program takes a multidisciplinary approach through a critical strategic thinking curriculum and required business school foundation courses. The faculty is made up of the right combination of academic and research professors along with top seasoned professionals from industry and agency backgrounds to reflect the Theory x Practice motto.
Gary Wilcox, Interim Director of the school, noted that, "We have some of the best faculty, students and staff to be found anywhere!  With the opening of our new state-of-the-art LAB and partnerships with companies such as Brandwatch, Dell, Amazon, and others, we hope to lead in advertising and public relations education for years to come."  
Between the Advertising and PR program, UT awarded 459 Bachelor's in advertising/PR degrees, 44 master's in advertising degrees, and five doctoral degrees in advertising to students in the 2018–19 academic year. Graduates of the Bachelor's program disclosed that they received an average starting salary of $41,000, compared to the national median of $35,000. The program is also exceptionally diverse with the makeup of gender and ethnicity. 
Erica Laible, a 2016 graduate and a current member of the Publicity and Promotions team for Sony Entertainment's highly regarded show "Wheel of Fortune," also spoke positively about her experience in the PR program at Texas. "I think one of the best things the PR program at UT really prepares its students for is selling their ideas," she explained. "You'll be expected to create, present, and execute your PR ideas throughout your career. Being able to convince the client or upper management that your campaign idea will deliver the best results is critical. When that opportunity comes, do your research, be prepared for any questions or criticism, and be confident."
This isn't the first time the Ad & PR School was ranked best in the country. UT Austin also recently ranked as the top advertising undergraduate program and the top MA program in Advertising in the nation.  Are you a current student or alumni of our program? Let us know your experience so we can highlight your achievements @txadpr. Or learn more about joining our program as an incoming student.