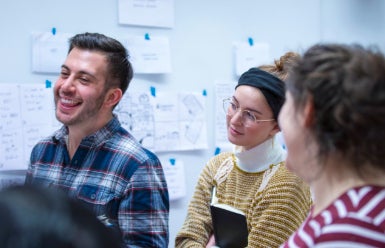 Here "creative" is a noun.
It refers to people who spend days, weeks, and even months in pursuit, and ultimately in the service, of a single powerful idea. They don't settle for good, clever, or serviceable but instead push for unique, revolutionary, and life-changing.
They are the future copywriters, creative strategists, art directors, and a billion other titles, but at their core they are creatives and here we train some of the world's best.
Who we are and how we work.
We are a sequence of classes currently available to both graduate and undergraduate advertising majors via a separate application process.
Those who are accepted begin a four-class series of portfolio-building classes where they learn the art of the concept, develop their creative process, and begin applying their skills towards creating the next great advertising campaigns. This sequence is supplemented by additional seminar classes that focus on growing skills necessary to support the student's progress, internships, and exposure to real-world clients with real-world problems.
Running out of shelf space.
As it turns out, we're not the only ones who think our students are pretty special. From D&AD to AAF ADDYs, NSAC to The One Club our student work receives recognition from top award shows all around the globe. Sometimes it has actually been easier to count the number of student awards we don't win. Take a look at just a few of the awards we've recently taken home to the 40 acres.