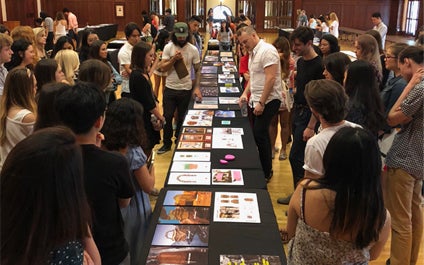 Student portfolios - It's all about the work.
For recruiters, and other curious souls, we suggest you head over to HireTexasCreative.com. There you'll find both our current students and recent alumni with direct links to their portfolios.
Join the Texas Creative fam.
We're open to both undergraduate and graduate advertising and public relations majors at UT who are enrolled in or have completed ADV 325 or ADV 387. Applications are released during the last week of classes each semester and can be found in the Stan Richards School of Advertising & Public Relations main office.
The application conversation.
Our application consists of three parts, all designed to showcase your thought processes and conceptual ability to the Texas Creative faculty. Basically, you'll receive a prompt and the way in which you choose to answer it helps us determine if you can convey a creative concept in a simple form. The goal is not to make an ad, but to convey a provocative and unique thought. You'll want your answer to be quick, insightful, original, and universal.
What're your odds?
While there isn't a fixed number, generally around 40 applications are accepted to begin each Fall and Spring semester.