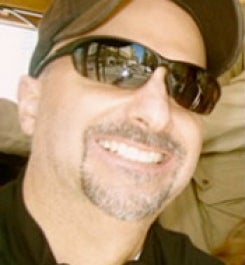 For two decades, Brent Ladd has worked at GSD&M's Idea City providing creative leadership and vision for many of the agency's clients: Southwest Airlines, AT&T, BMW, the U.S. Olympic Team, YMCA, AARP, DividedWeFail.org, Walmart, BBVA Compass, The Discovery Channel, Yellowpages.com, Haggar Clothing Company, HD radio, 7-Eleven, Seaworld, San Antonio Spurs, U.S. Air Force, Texas Parks and Wildlife, Texas Tourism and the American Red Cross.
Along the way, his work has been recognized by all the major advertising shows, including the One Show, CA, Archive magazine, Clio's, New York Art Directors, D&AD and the Cannes Film Festival.
More importantly, his work has made a demonstrable difference in the marketplace.
In 2007, the BMW Holiday Wish Event resulted in the best ever December sales for the carmaker, with a 17 percent jump in deliveries over the previous year.
USA Today recognized one of Ladd's Southwest Airlines "Wanna Get Away" campaigns as one of the most memorable and effective of 2005.
He was part of the creative team that helped pioneer the DING! desktop application for Southwest Airlines, a first in the airline industry.
Before coming to GSD&M's Idea City, Ladd's agency experience included a stint at Bozell & Jacobs and later Tracy Locke/BBDO.
Ladd is a founding board member of the Peace Council Foundation, a nonprofit organization that produces creative on issues of social consequence. Some of the accounts Peace Council has created advertising and design for are Caritas, the Children's Advocacy Center, AIDS center of Austin, Community in Schools and The Texas Monthly Volunteer Campaign.
Interview
Conducted by Sarah Douglas
What about your career as an undergrad at UT helped you get where you are today?
I had great teachers at UT. From Dr. John Murphy to Dr. Gary Wilcox. Many of my professors are still teaching today and still passionate about the business. I also had an incredible portfolio opportunity studying under the tutelage of Dr. Leonard Rubin. The main focus in his class was the search for a big idea: to create something that had never been done before. He had a no-nonsense approach to creating great advertising. Interestingly, his creative sequence course was offered before all the terrific portfolio schools came around, providing the same type of curriculum. Dr. Rubin knew what we needed in our portfolio to get a job. He was brutally honest about the work. Dr. Rubin ran his class like a real ad agency. He gave you an assignment and you had better be back the next day on time with great ideas ready to tack up on the wall for review. He treated you as an adult. Because of Dr. Rubin and other professors like him at the University of Texas advertising school, I was prepared to go out in the world with a good portfolio and subsequently get a good job.
What is the number one most important thing for an advertising graduate to know going into the marketplace?
Be patient. Be resilient. The market conditions are difficult right now, to say the least. I got out of school in 1983, and that year there was also a recession and no one was hiring. I just kept interviewing and kept my options open. And somehow, some way, I got a job at a big shop working on national brands. So keep your head up, be patient, be resilient and know that it will happen to you, too.
What is your favorite ad of all time not related to your own work?
I have a bunch of favorites. Not sure I have just one all-time favorite. But here is some work I admire in no particular order:
Errol Morris' Miller beer campaign.
Budget TV "What if?" campaign. Laugh-out-loud funny.
PBS "Stay curious" campaign. Beautifully crafted.
Pretty much anything Nike has done over the years. The "Millennium" spot was one of my favorites.
H&R Block series of spots following a family at tax time. ("Tax Day 6")
ESPN - "Without Sports" campaign.
Can't get enough of the "Hello, I'm a Mac and I'm a PC". Smart and very strategic campaign. It sells a heck of a lot of Macs. Buy Apple stock.
Burger King's Whopper Freakout campaign.
Intelligent IBM work. I really liked the "There is no pixie dust" TV campaign.
Holiday Inn Express- "Stay smart" campaign.
Ikea work. "Lamp" spot was awesome.
Skittles TV. Silly, but very funny.
Geico "Real testimonials" campaign. Best use of real people in a campaign.
AXE GameKillers campaign.
The introduction of the MINI in the U.S. was brilliant work. Especially all the nontraditional work.
Citi Identity Theft campaign.
E-trade- TV spot - "Money is coming out his wazoo" campaign.
What is your favorite campaign you worked on?
One of the most fun campaigns I worked on was for Southwest Airlines. The campaign was called "It must be football season." It was a blast to concept on, present to clients, shoot and edit. It ran the first six weeks of the pro football season because Southwest Airlines was a sponsor of the NFL. Everyone has a favorite. I still get a kick out of the spot we produced with the grocery store cashier who turns on the light at his checkout and announces: "I'm open over here." At which point a shopper takes a pineapple out of his basket and throws it like a football - our cashier drops like a sack of potatoes. A super slams on: "Must be football season."
Do you have any dream clients you want to work on?
I love playing tennis, so it would be dream project to work on a client like the USTA (United States Tennis Association). They always produce award-winning creative every year to promote the sport of tennis.
Are there any universal truths in developing creative work?
That's a great question. I'm going to answer it with some advice I've personally learned over the years in the business:
Have an insatiable desire to find the BIG IDEA.
Don't start with TV or print but just think of an idea. It might be a nontraditional idea, a web idea or something else - it doesn't matter, just come up with a smart, broad, big idea.
Never stop looking for the big idea. And if you come up with another idea the day before a meeting, bring it along in a rough form. No client will be upset that you brought more ideas to the table than expected.
I love the idea that came from CP&B to think in terms of: What would the PR release look like for your idea? Write it up. If it sounds impressive, it probably is.
Spend a lot of time thinking about what the voice is for the brand.
Make sure you have a rock hard strategy BEFORE you start creating.
Don't present any work you don't want to produce or sell. That may sound obvious, but it doesn't always happen that way.
Learn programs like InDesign, Photoshop, Illustrator, Flash and Final Cut Express. I'm still learning these myself.
Spend a lot of time coming up with a distinctive look for the brand.
Campaigns today can be more than three cohesive ads. As long as the campaign ties back to the same strategy, the executions can all be different. But the voice, the look, the tone should be the connective tissue. And since consumers have no time to look at advertising these days and will TiVo you in a second, you have to do things differently.
Once you have sold a campaign, take a deep breath and go back and review every single aspect of the campaign to make it better. Make sure your overall vision for the work is firmly planted.
Get the best vendors in the business to produce your work - directors, producers, interactive teams, photographers, music houses, sound design companies, editors, designers, etc.
Figure out the creative platform for the brand you are working on. Then you can lock in on it and sell it to a client. That way, you don't have to start over on every ad trying to figure out what you are going to do for the brand. You already have a strong foundation to start from that everyone up the organizational ladder has agreed upon.
Think about what the pillars of your brand are - and how you can OWN them.
Write a manifesto for your brand.
Come up with amazing nontraditional work, online ideas (not just banner ads and microsites), event marketing ideas, experiential ideas, augmented reality ideas, etc for your campaign. Bring your idea to life in unique ways that can also be very cost-effective.
Make sure and push back if you believe in your idea. Stand up for your work.
Language is critical. Look for little "nuggets" in your copy. Sometimes big ideas are buried in scripts and print copy. You might even find a new tag line.
What is something you can't live without?
My new iPhone 3G S.
If you could control the future of advertising what would you have happen?
This sounds trite, but I wish that more good ideas saw the light of day.
There are so many great ideas I've seen over the years that were not produced for one reason or another. I'm talking about brilliant and really creative ideas. People complain about advertising being so boring or uninspiring, but if some of the best and brightest of these ideas were actually produced on a regular basis, I think people would look at our industry in a completely different way.
Any general career advice for a creative?
I tell new creatives who interview with me: Be resilient. Be curious. Be interested. Work harder than everyone else around you. Have fun. Learn from your mistakes, and if you aren't making any mistakes, you probably aren't trying hard enough. Don't go with your first idea. And learn everything you can about a product and company you are working on.
Believe it or not, I still have a lot of fun and enjoy what I do after 25-plus years in the business. Not always every day but most days. I mean, how many people do you know get to use their creativity as the main focus of their job?
When all is said and done what do you want to be remembered for?
First of all, for being a great dad to my kids. Being a great husband to my wife. Being someone who treated people with respect and was trusted by others. A person who was fair to everyone he worked with. Being someone who came in every day with a smile on his face and tried to do the best job he could. And still had fun at it.
Anything else you would like to add?
Just thanks for asking me to do this interview - it's been really fun. And thanks to the University of Texas and all its amazing teachers for the education that helped me get my first job in advertising years and years ago. I appreciate it.
Favorites
Car: Anything BMW. I love my 3 Series. I love driving it to work.
Hobby: Magic. (Always have a backup plan in life.) I enjoy cycling and playing tennis as much as possible. I also enjoy drawing and painting but I don't get to do it enough.
Vacation Spot: La Jolla Beach. Anywhere in Europe. This summer one of the cities we visited was Lucerne, Switzerland. It was beautiful. I'm ready to go back anytime.
City: In the U.S. - San Diego. In the world: Siena, Italy. The city and hills all look like an Italian painting.
Food: Any Texas barbecue.
Thinking spot: On my upstairs back deck at home. Especially at night.
Book: I enjoy reading nonfiction. Right now I've been reading Outliers by Malcolm Gladwell