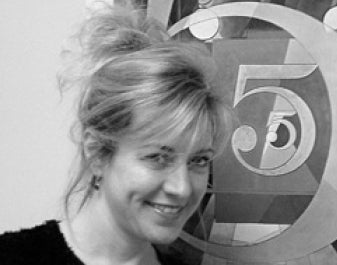 Texas Showcase
Texas AdGrad alum, Dr. Kimberly Paul Selber, received her Ph.D. from the University of Texas at Austin in 2001. She is currently an Associate Professor of Communication at The University of Texas Pan American (UTPA), and the Executive Director of University Marketing and Communication. Her student mentoring in and out of the classroom, as well as her previous work as an adviser for the Panorama student magazine, has earned her many awards including a Regents' Outstanding Teaching Award from The University of Texas System in 2009. In this Q&A, Selber speaks about her experience as a Texas AdGrad and her career in advertising.
Interview
Why did you choose the University of Texas advertising program for your PhD studies, and what type of work, internships and freelance did you do while you were a Texas AdGrad?
My mentors at the University of Illinois, Dr. Linda Scott and Peter Sheldon, recommended UT's ad program. Both were UT Advertising alums, and both knew that UT had what I needed, a creative program where I could also do scholarly work in advertising as an art form. They were right it was perfect!
As a student, I TA'd for the Creative Program, managed the creative lab, and pursued the Texas Creative portfolio sequence. I also worked as a production artist at GSD&M, and continued to do some freelance art direction, and copywriting. I also worked for a company that flipped houses - my job was to art direct a complete remodeling. That was a lot of fun since I have a fantasy of being an architect.
What did you like most about being a Texas AdGrad?
Aside from the great friends and fabulous parties? Working with amazing faculty, who were great mentors. They gave me the opportunity to create my own way. No one ever said, "It's not done like that."
I heard that you actually helped set up/paint the creative lab in CMA. Can you tell us a little bit more about how this happened, and what your vision was?
Yep, it's true. Sean Thompson, Dave Horridge, and I, had a blast working on that project. Those cool swan chairs are originals we had recovered; we wanted something that felt urban and inspiring. Our vision was for the space to "feel" creative the moment you walked in. It feels great to see that much of what we did is still there.
You have helped 15 UTPA students enter the Texas AdGrad program. Why do you continue to push for Rio Grande Valley students to continue their education at UT, and what do you tell them?
The Texas AdGrad program is great. I simply tell them, "If you want to go to graduate school, and you want to study advertising, you need to look into UT." I also tell them that the beauty of the UT program is that not only will you be able to focus on a specific area of study, like creative, but you'll have a solid foundation in advertising in general, and THAT makes you one of the most valuable players on any team. For the past five years Dr. Gary Wilcox has traveled to South Texas in order to meet with UTPA students, and has inspired a lot of students to think about graduate school as a part of their future. I think that is a major win in general.
I'd love to see our UTPA/UT AdGrad students eventually heading back to the Valley and creating an ad community here. Currently, Texas Creative graduate, Dagoberto Perez, is teaching some of our advertising classes at UTPA; he's bringing it home.
How have your studies at UT helped with your current work?
That solid foundation I mentioned above has served me very well. As the Executive Director of University Marketing and Communications, I am able to sit at all of the desks (art director, copy writer, director, media planner, account planner, and strategic thinker, sometimes all in one day.) It's helped me to create a department that does not follow the traditional path.
What was your dissertation about?
"The More You Know, the More You See: context and culture in 1920s print advertising." The first part was a quote from Aldus Huxley. I first heard it in an undergraduate visual communications class. The concept really resonated with me. So when it came time to title my dissertation, I was drawn back to this concept, which in hindsight was the beginning of my journey in looking at advertising as an art form. The research is about modern art's influence on advertising in the 1920s. It's also a history of the Art Directors' Club's competitions. It was exactly what I wanted to study and it let me bridge my craft of art direction with a historical/scholarly perspective. It was also the first time the Art History department sat on a dissertation committee from advertising. That was pretty cool.
What does the future of advertising hold, and where is the field going in your perspective?
Everything is blurred, content, advertising, entertainment, everything. To be successful, you can't think of yourself as an art director or a copywriter. You have to think of yourself as an advertising craftsman and understand the industry from multiple perspectives, and be able to pull from a variety of businesses in order to blend ideas and concepts that might not look like they go together. Communication is also continuing to get more and more personal. You have to be able to hold up your end of the conversation.