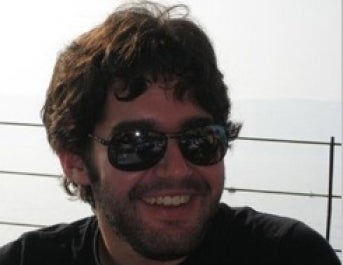 Jonathan Pelleg on UT Advertising, Saatchi & Saatchi and Social Media
Jonathan Pelleg is not one for sarcasm. OK, that may have been a lie. When I sent him an e-mail asking him if he would be as so kind as to partake in an interview, he was more than happy to do it. Then he followed his confirmation with "Let me firstly state that I'm not spotlight worthy and if you take any advice herein and end up on the streets because of it I'm absolutely not accountable." Well, we'll see about that one.
Pelleg first introduces us to his famous Tweet that landed him his job as a copywriter at Saatchi & Saatchi, and then goes on to tell just exactly why the UT 's advertising graduate program is, well, the best of the best!
How did you hear about the Twitter competition?
I followed Mike McKay at the right time.  I thought it was a joke, but then it started popping up in ad blogs so I thought it might be legitimate.  I threw a few tweets at it assuming nothing would come of it because it's so unlikely.  Still, whenever I think about it, it's with disbelief.
What were some other jokes you wrote, if any? And how did you decide which to use?
I wrote three or four and sent them.  When I wrote? The job is like privacy. Everybody wants it, nobody has it, and it's being given away on social networks? Saatchi called me and that's when this all became a very real possibility and my blood pressure will never recover from that.  I tweeted whenever I had a thought that gave me a genuine chuckle.
Some people have poked fun at your joke, calling it a "penis joke," how have you responded?
It's weird to have a bunch of people who I've never met judging me based on a tweet.  Even agencies have written snarky comments.  It bothers me a little, but they're the ones putting forth the effort to rage, in paragraph form, about my 21 words.
What is your role at Saatchi and Saatchi? Can you walk me through a typical day?
I'm working my hardest to make sure that Saatchi gets their money's worth.  Every project they want done, I ask if I can help do it.  Late nights are common but it's definitely worth it for the opportunity.  I have a lot of meetings during the day but other than that I'm writing frantically. It's a lot of fun, I really love it.  I come home with my brain turned to mush, though.
How has the advertising program at UT helped prepare you for your professional role?
Well the portfolio sequence and copywriting class helped the most.  They taught me the right way to brainstorm and the right way to get my work torn to shreds and not care that much.  The media and marketing classes helped me understand a lot of lingo, too, so that when I'm in a big meeting and talk turns to impressions, click throughs, ROI, and road blocks I don't feel like a total idiot. Just a little idiot. I hear UT creates the nicest graduates, but I'll touch more on this later.
Why did you initially decide to attend UT and what other schools did you consider?
I wanted to go to a legitimate university instead of an art school because I thought there was more to learn as a writer.  Ad Schools don't have massive English departments with interesting creative writing programs (take a class there, it's crazy).  I wanted to be a better writer and I figured an actual institution would be better at helping me with that, and I think they were.  I got in to USC and UT and I picked UT to get out of California (I was born and raised here).  Fate dragged me right back.
Do you have any advice for future graduates looking for employment?
Be hungry for a job.  Every CD I've talked to has loved Ad Grads because they come in without feeling entitled.  Ad academies produce class after class of entitled, picky students who walk into an agency expecting to start making Super Bowl ads because they're super stars.  Try to get any job you can, keep emailing people, calling, whatever, and never give up.  I expected a job immediately and that didn't happen but eventually I got offers (even outside of the Twitter thing) you just got to keep pushing and trying harder.  It really is terrible trying to get that first job.
How has social media helped you get this job? What social networks (other than Twitter) did you use (if any) and why?
Well I heard about the job through Twitter, applied through twitter, and used Facebook and Twitter to get votes when Saatchi wanted the public's opinion on what was funniest (still unclear on whether the votes ended up mattering).  So, really, no part of my getting the job wasn't on social media.  Aside from that, when I was still hunting for jobs I used LinkedIn an incredible amount.  Finding Texas Exes or just people's names and background was a huge help when I was emailing agencies.