Texas Showcase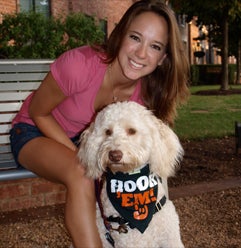 Meghan Brindley
Describing Meghan Brindley as endearing would be an understatement. As Meghan's story unfolds it is obvious she has discovered her true calling and purpose at the University of Texas Advertising Graduate Program.
With an undergraduate degree from Southwestern as a double major in Communication Studies and English Literature, Meghan worked six months at Springbox as a copywriter after graduating. Following her desire to, "Refine her creative skills," Meghan says, she found herself shortly thereafter in the Texas Creative program. However, today Meghan talks mostly about corporate social responsibility and about the valuable business application tools she has gained at UT: "I never would have learned to think that way had I not come here." Meghan, a second year Master's of Advertising student, graduate peer advisor, and proud Longhorn, cheerfully shares, "As soon as I got my acceptance I pulled my applications form everywhere else!"
Meghan applies her life experiences and newly honed analytical skills to her internship with Hotels for Hope, a non-profit, social enterprise dedicated to enriching the lives of children. Having always known she wanted to work for a non-profit, Meghan is happy contributing to society in a positive manner as well as finding creative ways to communicate the company's message
Meghan's latest personal and professional non-profit campaign truly set her apart. She has already raised $2,000 worth of donations for the LIVESTRONG Challenge as part of the Hotels for Hope Team. Meghan's drive is more than a competitive willingness to do great things; it's a personal ambition. Meghan's father is a cancer survivor that she describes as a living miracle. Beyond affecting her family, Meghan has lost a best friend to cancer and continues to have friend's battle cancer. Meghan sets an encouraging example of how powerful her advertising skills can be.
With these accomplishments come the stresses of the advertising field; Meghan relaxes with the help of her Golden-doodle, Tyler. As for advice to prospective students, Meghan encourages you to reach out and ask questions and, "Come sit in on a class, meet current students, everyone is so friendly and social media makes it so easy."
Learn more about Hotels for Hope.