An Interview with Christina Van Essen
The University of Texas at Austin staged their third annual one-day intramural student competition known as the Ad Dash. This intensive daylong competition, supported by the Austin ad community, gives 25 UT students selected by John Murphy and Lisa Dobias an unforgettable experience.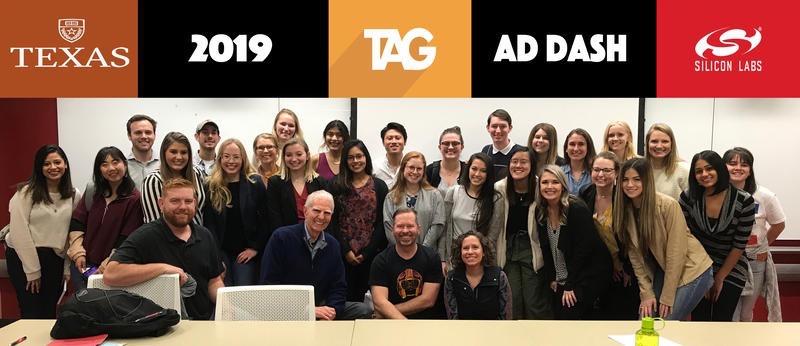 We had the opportunity to speak with Christina Van Essen, a fourth-year public relations student and TexasMedia program member who was one of the 25.
1.    What made you want to apply to Ad Dash, and what was the application process like?
I have worked exceptionally hard to get everything out of my time at The University of Texas at Austin. Ad Dash was another excellent opportunity that UT Austin offers its public relations and advertising students. A few of my friends had competed the year previous and had nothing but great feedback, and I wanted to experience the fast pace, intense environment that the competition is known for.
The application process is relatively standard. A one-page application form with general questions about yourself, your career objectives and your relevant work experiences. Pro Tip: Submit your resume in addition to the application even though it is not directly asked for!
2.     Which local ad agency were you hosted by? What was the environment and experience like?
My team was fortunate enough to be hosted by McGarrah Jessee, and our agency representatives were Nick Spinner and Gabriella Montemayor. Nick and Gabriella were absolutely incredible hosts – we arrived at the agency and were taken on a tour of their building, learned their agency history and had time for a few questions as they showed us off to our "war room" for the next five hours. Most importantly, we had the opportunity to network with them after Ad Dash was over and get feedback on our presentation/deliverables.
3.    How did SRS and TexasMedia aid you in this process?
TexasMedia has given me experience working with real clients, but above all, it helped me discover what I am truly passionate about: effective communication. Last semester, I had the opportunity to work on projects for Texas Central High-Speed Rail and Clif Bar & Company. This program divides the cohort into six teams of six to foster a competitive environment to simulate pitching new business. For each client, we are given a request for proposal and are tasked to put together a comprehensive media plan while strategically optimizing a specified budget. For example, with Clif Bar & Company the goal was to rebrand and develop an actionable strategy for target market diversification to increase household penetration by 5% and ultimately reverse brand decline utilizing a $2M budget. Together my group and I researched, drafted, edited, revised, reviewed, and published a sixty-page deck. From there we crafted an effective thirty-minute presentation and pitched our strategy to Clif Bar & Company employees. This semester my cohort and I will complete courses on digital metrics and media investments to complete our basis of advertising knowledge. The knowledge I have learned from my TexasMedia courses has fully prepared me to be a competitive applicant both academically and professionally.
4.     What lessons/takeaways did you gain from this experience?
I loved having the opportunity to work for Silicon Labs. I gained a wealth of information regarding the complexity of the tech industry and the challenges with data protection and privacy. This was the first client from the tech industry I had the opportunity to work with. It was such a different way of problem-solving driven by research and strategy. I also enjoyed the opportunity to collaborate with both students from TexasMedia and Texas Creative. The experience of integrating the two programs was extremely valuable. (I wish there were more opportunities to work on projects with both media and creative executions.)
5.    What advice do you have for current SRS students who may not have gotten this opportunity or want to apply in the future?
I would advise students to apply again and keep seeking opportunities to grow. I genuinely believe every experience is good experience – the key is to keep learning. Yes, it might not be the most glamorous work, but you are learning what you don't like and what you do like. For example, you can get a feel for what type of management style you prefer or if you like working in a small/large environment or if you enjoy start-up culture or a more established company.
Nonetheless, being able to speak to the opportunities, experiences and achievements you have is HUGE. It's great to have certifications and great internships to put on your resume, but if you can't speak to your growth and what you learned from those certifications or internships, they are worthless.