AdGrads pick up accolades at Young Ones College Competition
Students of the Department of Advertising and Public Relations at UT Austin competed at the The One Club's Young Ones College Competition, bringing home several accolades for their work.
Part of The One Club's Creative Week May 5 – 9 in New York City, the Young Ones College Competition had several areas for students to submit work that ranged from logo designs to comprehensive campaigns.
Under one of the largest categories, which included submissions from schools abroad and across the U.S., Ryan Warner and Kevin Eisenbaum won a bronze pencil for their Save the Arts campaign "Take Music To School."
"It was a great experience to see all the work from different schools," Ryan said. "Creative week was a great time to both represent our program and also realize that we are a part of something much bigger."
For the second client, Organic by John Patrick, an international fashion brand, students had several assignments from which to pick. Adriane Joseph, Ananta Prayitno, Nick Delisi and Eduardo Camacho won merits for their logo "O" and print campaign "The Raw Line."
"Being chosen as finalists in two categories, especially from our first submission to the Young Ones competition, was a proud moment for all of us and we are especially thankful we did it together," the team said.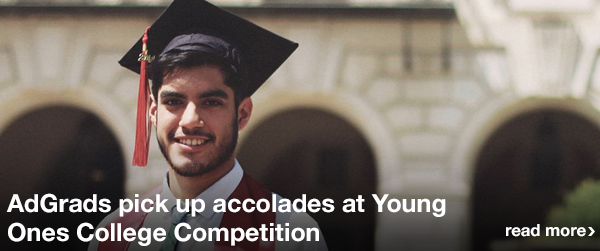 Madeleine Dao and Bailey Sullivan each received merits for their brand identity campaigns "Pencilen Ratio" and "Organic Logo," respectively. The work consisted of brand collateral to be used for promotion of Organic by John Patrick.
"It feels pretty surreal to be a merit finalist for Young Ones," Bailey said. "I had a lot of fun with this since it is pretty different from what we normally do in the Creative Sequence."
Senior Lecturer Sean Thompson, who teaches classes for the department's Creative Sequence encourages students to participate every year.
"The One Club has always been a strong supporter of advertising education, and the Young Ones competition is one of the ways that students can learn and compete on an international playing field," he said. "The level of competition is excellent, as is Creative Week, the forum in New York where students gather to show off their work to top industry professionals and attend the Young Ones awards ceremony."
Students who attend Creative Week have the chance to get their portfolio critiqued and tour agencies to get more insight into the advertising industry.
"Recognition for our teamwork felt great, of course, but meeting with creative directors from all over the country was most beneficial," the group of students said. "It's nice to know that, amidst the panic of graduation, wise folks are at Creative Week to help and hire. For a Texan, New York's an opportune mammoth."