Advertising Graduate Student Wins Pitch For Nike
By Amanda R. Martinez
Luis Guerra, a graduate student at the Stan Richards School of Advertising and Public Relations, won the 2015 MAIP summer project competition with an innovative digital Nike campaign for Wieden+Kennedy. It was an unexpected bonus that Nike was going to use the team's aesthetic design in their upcoming campaign, which launched early October.
Last fall, Guerra came across MAIP, the 4A's multicultural program, which promotes diversity in the advertising field and helps students start their career in the industry. Little did Luis know he would be placed at Starcom Mediavest Group (SMG), the number one ranked global media agency network in the world.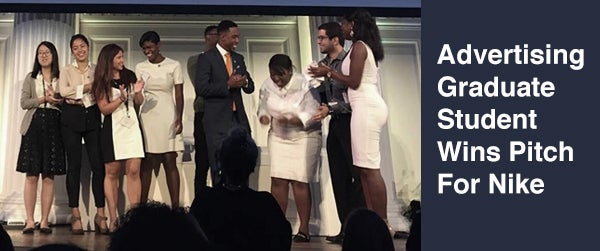 "I initially didn't know who Starcom Mediavest Group was," said Guerra. "But after finding out who they were, I was excited to see what doors were going to be opened through the amazing opportunity they were offering me."
His time in Chicago was spent working for Tapestry, SMG's multicultural division. In the midst of this life-changing internship, Guerra was constantly working with his MAIP Fellows team who were based in New York preparing for their big summer presentation to Wieden+Kennedy for Nike.
"Nike had just launched their women's elite basketball line," said Guerra. "So the project was focused on how we could launch it digitally."
This experience has sparked something in me,..
Luis's background in consumer and market research helped his team move forward by incorporating a color scheme that has not yet been claimed by the athletic industry. They differentiated themselves by designing a fun watercolor-based campaign with splashes of pinks and purples- something new to Nike.
"We ended up presenting and the team did a phenomenal job," said Luis. "Wieden+Kennedy loved our presentation, they loved everything!"
The award was announced during the national MAIP luncheon where students from around the United States were flown into New York City to be recognized for their hard earned internships. On top of that, students gained a pretty impressive professional and social network.
"Because of MAIP I had the best summer and time of my life," said Guerra. "What better way to start your career and get experience?"
Guerra is currently interning in the media department for Sauceda Industries, which manages and owns both Texas Humor and Yes To Texas clothing brand.  He plans to graduate with a master's degree this spring.
"This experience has sparked something in me," said Guerra. "Now that I know I can handle big agency life I feel like I can handle anything!"