Advertising Junior wins 2015 AAF Award
One team, a Longhorn and eight hours of hard work resulted in one advertising student's team winning the AAF Award for 2015.
Kelsey Boylan traveled to Houston, Texas in early November to compete in this years American Advertising Federation competition. She is originally from San Francisco, California and it was the first time she traveled outside of Austin. Boylan was one of three UT Austin students competing, but the only Longhorn on her team.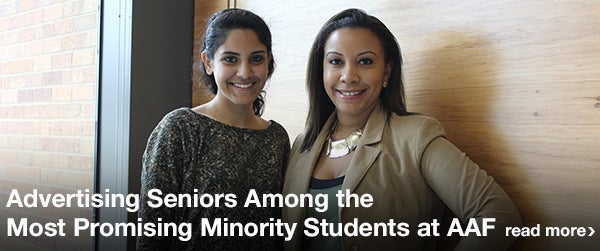 The competition took place at The Marriot and the Lopez Negrete Communications agency hosted Boylan's team the day of the event. The team had to create a media plan for Mixers + Elixirs, the Houston Museum of Natural Science after hours event. Her team consisted of eight people with varying expertise in the advertising field. Boylan was the only copywriter on the team.
"Our task was to come up with an advertising campaign for them [Mixers + Elixirs] including media placement, a radio spot, a half-page print ad, and a digital ad," said Boylan.
The team had eight hours to come up with the entire campaign, save it onto a USB and drive in Houston traffic to turn it in before 6 p.m.
"In eight hours you feel like you never have enough time to do everything that you want to do," expressed Boylan. "It was really intense, and we all just drank a lot of coffee."
The coffee consumption paid off as Boylan's team won out of the 17 teams that competed. She expressed how surprised she was to have won. It seemed surreal but she is grateful to the Texas Advertising Group for providing her with the opportunity to go and she appreciated Lopez Negrete Communications for hosting her team and checking up on them throughout the process.
It was great experience for Boylan, who wants to pursue a career in copywriting.
"I found out I wanted to be a copywriter growing up in San Francisco because I would look at the ads in the subway and try to come up with better ones," said Boylan. "It just sort of stuck and that's how I ended up at UT because I wanted to pursue advertising."
She even had the chance to have her portfolio reviewed by professional copywriter Jonah Sanders. Boylan expresses her gratitude for her Texas Creative professor Ryan Romero, who has helped her with her portfolio.
"Ryan has been my professor in both portfolio classes and he's been awesome," said Boylan. "He has helped me better understand things not only from a writing standpoint but conceptually."
She has also gained valuable experience writing marketing material for the UT dining halls as the copywriter for the Division of Housing and Food Services. The job has allowed her to explore different writing perspectives, which helped when approaching the media campaign for the AAF competition.
Boylan is an advertising and Plan II honors major, in the creative sequence and pursuing a creative writing certificate. She plans to graduate in May of 2017. Her dream is to work at Wieden + Kennedy after graduation. 
November 25, 2015