Alumni Spotlight: Kayla Luna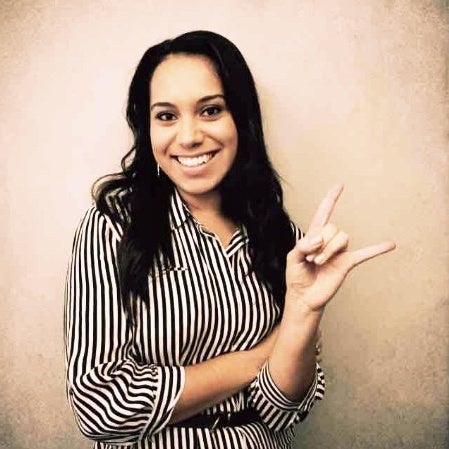 Name: Kayla Luna
Major at UT: Bachelor of Science in Advertising, Business Foundations Certificate
Sequence or special program: TexasMedia
Graduation date: May 2015
Current Livelihood: Media Planner/Buyer at Proof Advertising - Austin, TX
Account: Subway
What is your position at Proof Advertising and what does your role entail?
I am a media planner/buyer at Proof Advertising. My role focuses on traditional media and I primarily work on the Subway account. As a planner/buyer, I manage six US Subway markets as well as one in Quebec, Canada. I create media plans tailored to each market and then execute the plan myself through buying the different elements. 
How would you describe the company culture?
Proof is an entrepreneurial, work-hard, play-hard environment. We all have multiple projects and deadlines we are managing but the people I work with make it great. The company events are always something to look forward also. 
What is the most rewarding part of your job?
Sometimes there are projects that take a lot of time and energy. It's the best feeling when you can turn something in knowing you worked hard on it and gave it your best effort. It's especially rewarding when it turns out to be just what the client was looking for or achieved the results they wanted. 
Were you in any organizations at The University of Texas at Austin and if so, what positions did you hold?  
How did UT impact your life and career?
Did the Stan Richards School or any other organizations at UT help you with what you're doing now?  UT impacted my life by guiding me to the career I wanted to pursue. TexasMedia helped strengthen that. Organizations like TAG exposed me to what a career in advertising could look like. Overall, the resources and professors at the University helped shape my career today.
Which professors were the most memorable to you and why?
Lisa Dobias- it was in her introduction to media course that I realized it was exactly what I wanted to do in advertising. Her class and the semester-long group project motivated me to apply to TexasMedia and I am so grateful I did.
Why did you choose to study advertising or public relations?
I chose advertising, media specifically, because it is a blend of strategy, creativity, and challenge. While the creative team may decide what a message will be, media is the force that puts it in front of someone. I truly enjoy the thought that goes behind every media placement and the constant challenge of figuring out the best way to reach people.
What do you love (or don't love) about living in Austin?  
It's an awesome city to be in. There's always something new to see, try, or eat. I think Austin is unique because you get the perks of being in a city but it somehow still has a small-town vibe. What I don't love- the traffic!
What are your short-term and long-term career goals?
I started off as a media coordinator at Proof and have worked my way up to a planner/buyer. My goal is to continue to grow in my role and learn as much as possible about the industry. Eventually, I'd like to make my way to towards the client side.
What is your favorite thing to do outside of work?
Anything outdoors, traveling, and the occasional tv-binge watching. I also have two dogs who I love to spend time with. 
What publications/sites/newsletters do you subscribe to and find are most helpful in your occupation?
What is the hardest part about your job?
The industry itself can be demanding sometimes with constant deadlines and fulfilling client needs. It's important to maintain a work/life balance. 
What is the most interesting project you have worked on so far in your career?
Most recently, a few of my markets were selected to act as "test" markets for new products or promotions. These plans and buys were a lot different than what I had done previously so it was interesting to work with a new strategy and see if the tests were successful. 
Where do you see the industry going?
It seems like every day we are hearing about how people are harder to reach because of changing viewing trends and new technology. I see the industry continuing to adapt to these consumer habits and finding creative ways to get a message across. 

What advice would you give to a current student in the Stan Richards School?
Absorb as much as you as a student, use all your resources, and work hard. The industry is competitive so you have to remain motivated. Don't stop learning even when you're no longer a student.