Alumni Spotlight: Kyle Nguyen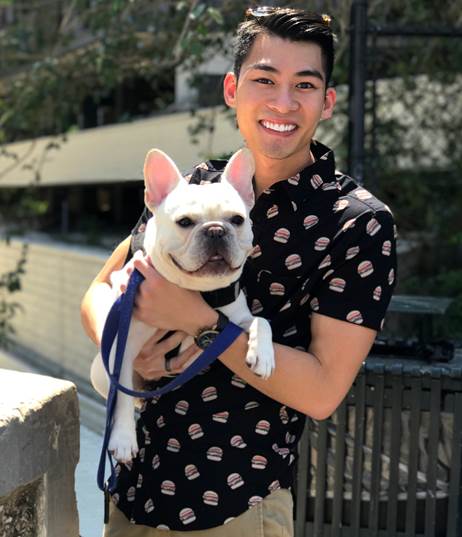 Name: Kyle Nguyen
Major at UT: Advertising
Sequence or special program: TexasMedia
Graduation date: May 2016
Current Livelihood: Media Planner, GSD&M, Austin, TX
1. What is your position at GSD&M and what does your role entail?
As a Media Planner at GSD&M, I provide media strategy and recommendations backed by thoughtful research and insights. I also work alongside other teams within the agency (i.e. account leadership, creative, etc.) to ensure our media strategy and recommendations are integrated into the "big picture" of helping brands grow their business.
2. How would you describe the company culture?
I love it! Everyone is extremely friendly and open to new ideas. We lift each other up and support one another. Definitely good vibes in the office. #teamwork
3. What is the most rewarding part of your job?
The reaction of clients when they see the work we've done and to know that what we've done is going to be seen by people outside of the agency's walls. It's also rewarding to see/hear the media I had a hand in planning/placing run in my daily life. For example, I remember when I first saw the commercial I helped put on the air. It was kind of amazing.
4. Were you in any organizations at The University of Texas at Austin and if so, what positions did you hold?
I was part of Texas AdGrad (now TAPR) and helped run the Facebook Ads.  
5. How did UT impact your life and career? Did the Stan Richards School or any other organizations at UT help you with what you're doing now?
UT provided me with a good foundation/jumping off point for my career. I'd definitely recommend taking advantage of any/every opportunity that comes your way. For example, I learned of a program called MAIP (Multicultural Advertising Internship Program) during the beginning of one of Lisa Dobia's Intro to Media class and figured I would apply. A couple of months later I was living my best life in NYC interning for a huge media company. CRAZY.
6. Which professors were the most memorable to you and why?
Lisa Dobias and Tracy Arrington! They're SO smart and have a lot to teach. Their classes prepared me the most in my career.
7. Why did you choose to study advertising?
I liked the idea of working in a field where every day is different and fosters creativity.
8. What do you love (or don't love) about living in Austin?
I love how open and accepting people are here. I despise the traffic.
9. What are your short-term and long-term career goals?
Short term: learn as much as I can about media.
Long term: learn as much as I can about media.
10. What is your favorite thing to do outside of work?
I run my dog's Instagram account – feel free to check him out and follow, @albusthefrenchie.
11. What publications/sites/newsletters do you subscribe to and find are most helpful in your occupation?
I'm subscribed to the 4A's Smart Briefs MMA's Smart Briefs (stands for Mobile Marketing Association).
12. What is the hardest part about your job?
There isn't a strict "recipe" for media planning so you have to have a good foundation and understanding of the basics because every system is different, every client is different, and every team is different. We have the freedom to make decisions, but we have to be smart about them.
13. What is the most interesting project you have worked on so far in your career?
I've worked on a few new business opportunities – those are always fun!
14. What advice would you give to a current student in the Stan Richards School?
Network and be humble - You never know who is connected to who so put your best foot forward, always. UT prepares you well but there's so much more to learn.
15. Anything else you would like to add about your experiences?
More information on MAIP here - http://maip.aaaa.org/