Alumni Spotlight: Leigh Pankonien
Graduate of the Master's Program Class of 2011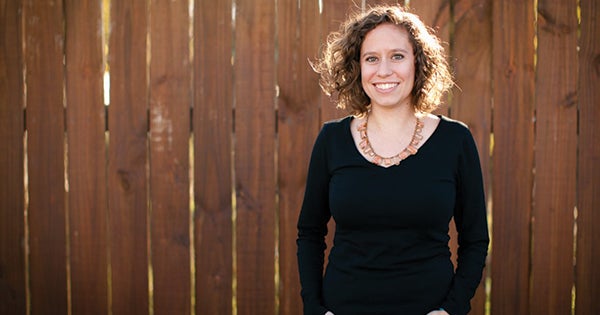 Name: Leigh Pankonien
Major at UT: Masters of Advertising
Sequence or special program: Interactive Track
Graduation date: May 2011
Current Livelihood: Digital Marketing Manager, Silicon Labs, Austin, Texas
1. What is your position at Silicon Labs and what does your role entail?
As a digital marketing manager I work on the content team within corporate marketing. I own and implement corporate social media, customer webinars, and email newsletters. I also contribute a bit in public relations and website content development. I really enjoy having such a diverse roll because it allows me to see the big picture and ensure that our integrated marketing plan is just that…integrated.​
2. How would you describe the company culture?
One of Silicon Labs' core values is to hire, foster and empower great talent. I consider my co-workers the best of the best and I learn and grow from working with them every day. Another core value is doing the right thing, and I see this through-out all of our work and interactions both internal and external. These values are both very important to me, and they help shape the culture. Within the corporate marketing team, there's also flexibility to innovate and try new things. This allows for both personal and team growth. It's great to work for an established, global company that has very little red tape and bureaucracy. Come work with me!
3. How did UT impact your life and career?​
Attending the Stan Richards School helped me develop confidence in my skills and helped grow my network tremendously. The knowledge I gained of the agency and business landscape in Austin was tremendous, and in fact it allowed myself and Kristen Sussman to gain the skills needed to launch an agency called Social Distillery. Instead of working as an entry level employee somewhere, Kristen and I did everything needed to grow our own social media agency. The five years I worked at Social Distillery afforded me so many opportunities to learn about business, serve a wide range of clients, and become an expert in an emerging marketing channel. Support from our teachers, fellow students and our network was integral to the success of Social Distillery, and for that I'll be forever grateful.​
4. Which professors were the most memorable to you and why?
I have a special place in my heart for both Gene Kincaid, whom recently retired, and Gary Wilcox. Not only did they teach me a heck of a lot, but they encouraged exploration beyond what they taught, and they introduced us to industry professionals that kick-started networking and real-world experiences. They're also really cool people that I've enjoyed many beers with, chatting them up beyond the field of advertising. I remain very appreciative that Gene and Gary both treated me more like a colleague than a student. They both have a high-level of respect for their students' abilities and push them to reach their full potential.
5. Why did you choose to study advertising?
After getting a degree in Religion from Trinity University, I needed to go back to school in the field where I wanted to build a career. I could have gone the business route with an MBA, but I wanted to develop more digital implementation and creative skills. My liberal arts degree matched with a masters of advertising has done me well so far, but everyone's route to a successful career is different.​
6. What do you love (or don't love) about living in Austin?
I was born and raised in Austin, so I was happy to get an opportunity to attend UT's masters program after attending Trinity University for undergrad. I have always been a huge Longhorn fan, so to be a legitimate student (and have access to cheaper football tickets) was really cool for me. When you grow up in a city like Austin, you've got it pretty good and it's really hard to leave when there's always some new eatery, activity or venue to explore.
7. What is your favorite thing to do outside of work?
Outside of work you can find me going to concerts, participating in fun runs, traveling and playing with my bird dog.
8. What is the most interesting project you have worked on so far in your career?
There have been so many interesting projects and so varied! The one that immediately comes to mind is an integrated campaign I worked on at Silicon Labs to launch a product called the Thunderboard React, which is a complete Bluetooth Low Energy reference solution that collects and delivers sensor data to the cloud. We hosted a pinewood derby in Austin and invited the tech community to race cars that we provided them. Each of their cars contained the Thunderboard React so attendees were educated about our technology while having some throw-back fun! The takeaway is that regardless of the product or industry, you can always find a way to market it in a fun and relatable way. You can view photos and read more about the specifics of this project in my blog, here.​
9. What advice would you give to a current student in the Stan Richards School?
I can't stress enough that the relationships you build at school are some of your most important. Invest your time getting to know your fellow students and teachers. When you've graduated, continue to cultivate those relationships because it will only bring more enrichment and opportunities to both parties. Next, you need to realize that a degree doesn't guarantee you a job or a career. It's important to do a wide range of internships and jobs to get real-world experience and develop skills that will set you apart from the rest of your graduating class. Then, work really hard to develop a career that you enjoy (most days), working for a company you respect and with people that you admire. You got this! Good luck!