Moody Students and Professors Hold Fourth-Annual TAPR Bowl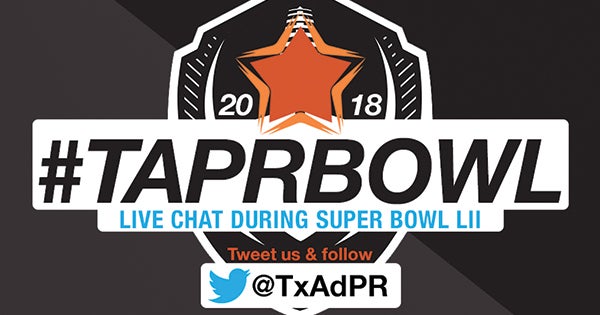 AUSTIN, Texas – Feb. 1, 2018 -- During this Sunday's Super Bowl, advertising professors and students from The University of Texas at Austin Moody College of Communication will begin live-tweeting their opinions and critiques on Super Bowl advertisements at 5:30 p.m.
The Stan Richards School of Advertising and Public Relations student-run social media team, TAPR, will share their thoughts on Twitter using the hashtag #TAPRBowl for the group's fourth-annual TAPR Bowl. Dr. Gary Wilcox (@garybwilcox), professor and advertising expert, will be joining advertising and public relations students at the event.
Where: The Park at The Domain
When: 5:30 p.m., Feb. 4, 2018
TAPR Bowl participants will use social media tracking tools to analyze posts, locations of interactions, audience feedback, demographics, spikes in traffic and other social media listening metrics to record responses to ads throughout the evening.
"This is the time of the year some of the best ads are shown on the Super Bowl and our TAPR team engages with the audience via our social channels," said Gary Wilcox, professor in the Stan Richards School of Advertising and Public Relations. "Through this event, TAPR typically enjoys its highest engagement and social interaction of the semester.  Truly an exciting time for all!"
Contact: Gary Wilcox (512) 217-7040
###