American Advertising Federation Award Profile Story
Each year, the American Advertising Federation chooses 50 undergraduate college seniors from a competitive pool of applicants to be a part of the 'Most Promising Multicultural Class.' In 2021, seven out of the 50 recipients of this prestigious award were chosen from The Moody College of Communication.
Among the seven recipients for this year is one of our very own, Nafisa Hasaan. Hasaan is a part of our TXADPR team and will be walking in the graduation ceremony this May.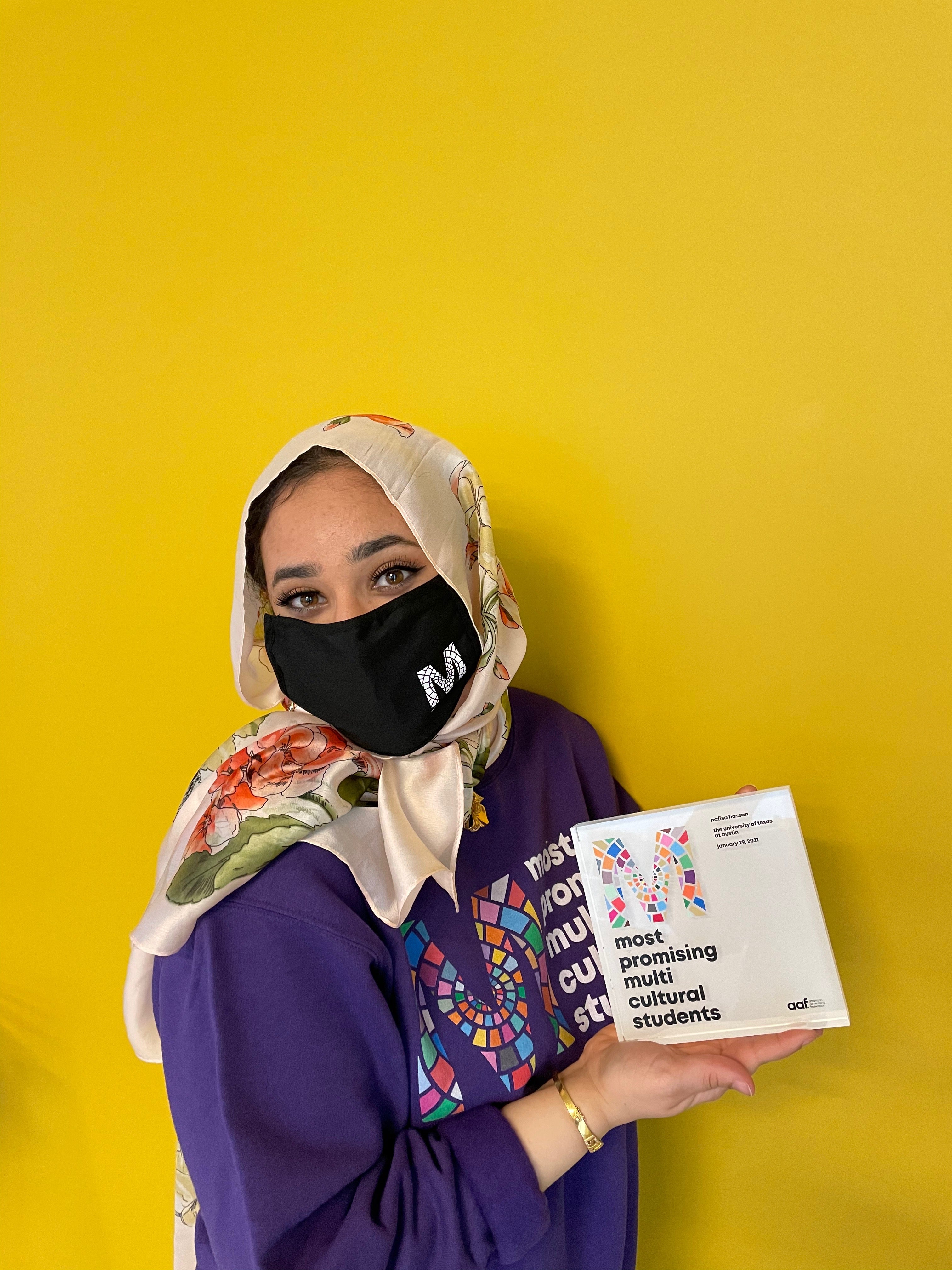 "It was pretty surprising and shocking when I learned I was chosen and I'm very grateful for the opportunity," Hasaan said. "Even though this year the program was virtual it was still a valuable and rewarding experience."
By going virtual for 2021, the program was able to broaden its reach and impact. The Most Promising Multicultural Class program of 2021 has offered networking and personal brand coaching breakout sessions as well as live stream immersions with advertising, marketing and media professionals.
"Once you have been recognized, you are an MPM alumni, and you are connected to this online alumni network, similar to LinkedIn, that people who have received this award in the past have been added to," Hasaan said. "A lot of those people are very successful now, so it's exciting to be a part of that group."
As a recipient of this award, students are provided with opportunities to be recruited as fresh talent and are further prepared as some of the advertising industry's best young prospects.
"We got to connect with professionals and learn about everything that we expected to and more," Hasaan said. "It's all of the top multicultural advertising students in the country, it's almost like all of the valedictorians are all surrounding you in one spot."
While in a normal year these students would be flown to New York for a ceremony celebrating their accomplishments, this year they were unable to do so. In lieu of this, the students chosen were put on a billboard in the middle of Times Square, New York for all the world to see.
"We all have pictures with our sweatshirts and plaques that were sent to us and we were actually sponsored for the billboard put up in Times Square," Hasaan said. "Even though we weren't able to meet in person, there are still lots of pros about the experience."