New Beginnings: Gone to Texas 2021
Another year has begun, meaning it is the start of a brand new cohort at the University of Texas at Austin. Thousands of students from both the 2024 and 2025 cohorts gathered to take part in this year's "Gone to Texas" celebration. Due to the ongoing COVID-19 pandemic, Gone to Texas 2020 had been moved entirely online, leaving last year's freshman short of the experience.
Every year, in the beginning of the Fall semester, students, staff, and faculty welcome brand new students on to the Forty Acres. "Gone to Texas" originated in the 1820s, when people were searching for new beginnings. As pioneers began to leave their known homes, they carved those three familiar letters on their wooden doors - GTT (Gone to Texas)! As time passes, Texas has remained a place of ample opportunities for people of all ages. Each year this tradition continues on campus grounds, as thousands of students are welcomed and encouraged at the start of brand new adventures at the University. Gone to Texas formally marks the arrival of UT Austin's newest members.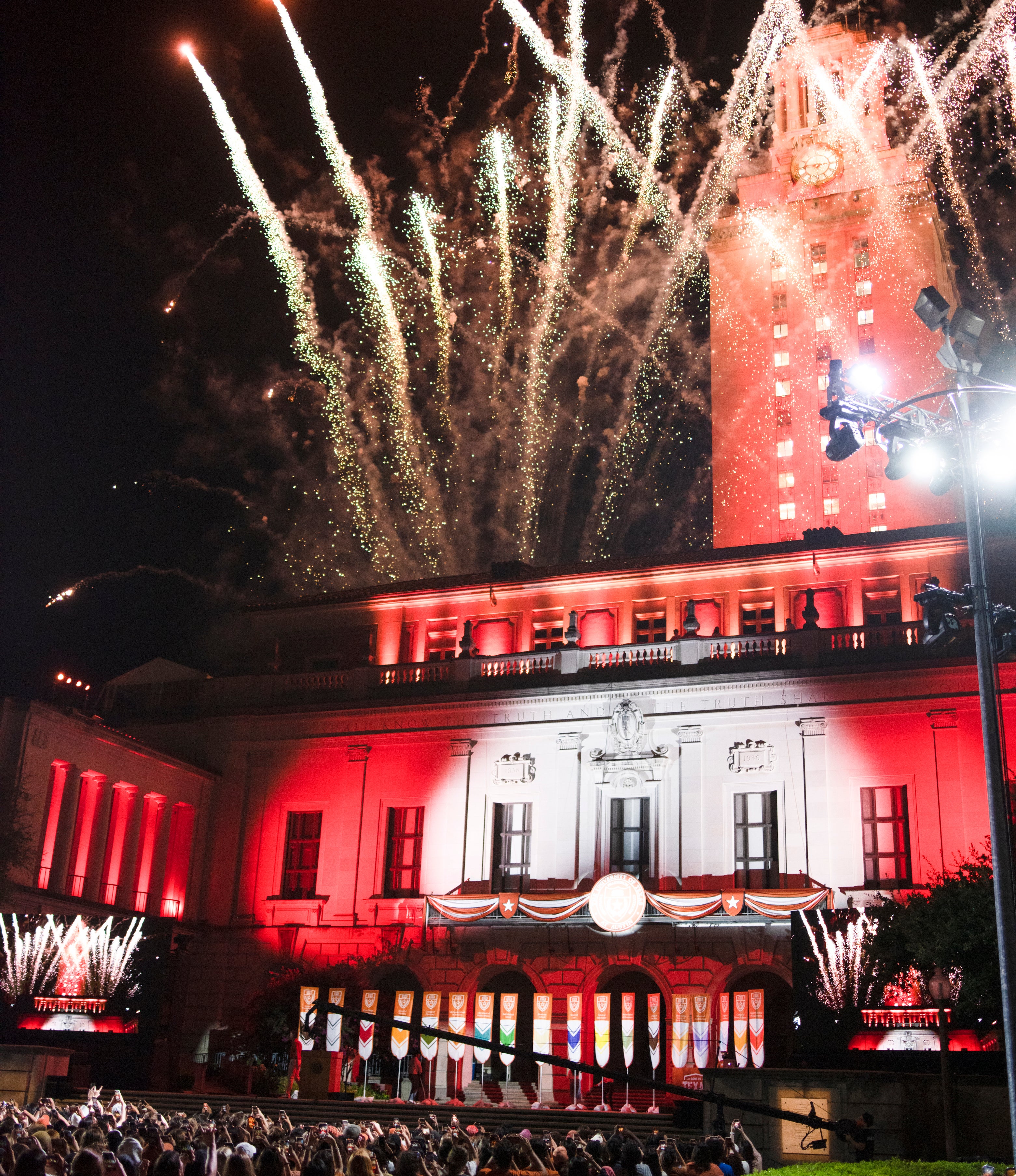 Photo Credit: Jack Myer / The Daily Texan
On August 24, 2021, students gathered at the university's main mall, just south of the UT Tower to mark the emergence of their new lives. Not only was the new freshman class in attendance, they were joined by last year's freshman class, as well. The world stopped during the Spring 2020 semester, when the COVID-19 pandemic swept across the world, forcing the university to make a transition to virtual learning and festivities. Although Gone to Texas 2020 took place virtually, this still left thousands of students without the in-person experience. Despite adjusting to the new normal that became life online, many students were glad to be attending this event in person. The university took precautions and recommended that masks be worn. 
This year's celebration consisted of encouraging words from famous campus faces, such as President Jay Hartzell and football coach Steve Sarkisian. Motivational words were heard throughout the night. "Be bold, be brave and be courageous. This is an amazing time in your life," Coach Sarkisian stated as he uplifted students during the celebration.
On behalf of TXADPR, we would like to welcome the Class of 2025. May your semester and time here on the Forty Acres be a fulfilling one. In the words spoken by President Hartzel, "You're all now Longhorns. You've officially done it. You've gone to Texas." Hook 'em!
Follow @TXADPR for more news and information about The Stand Richards School of Advertising and Public Relations. | https://gonetotexas.utexas.edu/