And That's a Wrap: TAPR Bowl 2018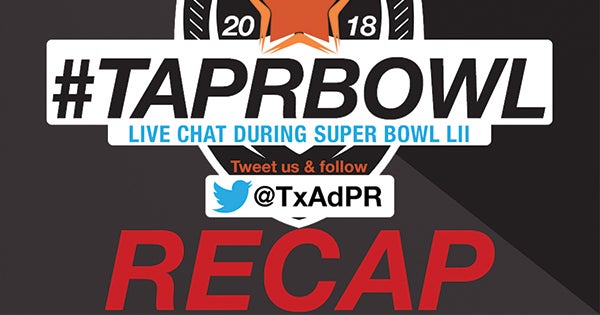 This past Sunday, everyone was tuned in to see an amazing annual event occur - Super Bowl commercials. Yes everyone loves the Super Bowl, but you have to admit, you're really there for the commercials. As we were live-tweeting the game at The Park at the Domain and interacting with people on Twitter, we collected massive amounts of data on #TAPRBowl. The hashtag was so big that it was even trending on Twitter in the Austin area. We also shared several voting polls with our audience as they picked their favorite ads on the list. We tweeted about the multitude of ads during the game and received insightful thoughts from our followers. We loved many of the ads that aired, but there were some that scored a touchdown such as Tide with their "It's a Tide Ad", Jeep with their Jurassic Park reference, Hyundai with a touching commercial that would make you tear up, in a good way, Doritos Blaze with Morgan Freeman and Peter Dinklage rapping, and so much more. We are already eager to see what ads will be created next year by the amazing talents at all the advertising agencies helping out with Super Bowl ads.
What were some of your favorite ads that you saw during the Super Bowl? What were some ads that you felt could have been better? Feel free to follow us on Twitter and tweet us some of your thoughts. We would love to chat about ads with you. After all, it's kind of our thing.