Banding Together: How to Strengthen Communities in a Crisis
After events like school shootings, natural disasters, and mental health epidemics, providing mental health assistance in a calm and collected manner to those directly affected by such tragedies is more important today than ever.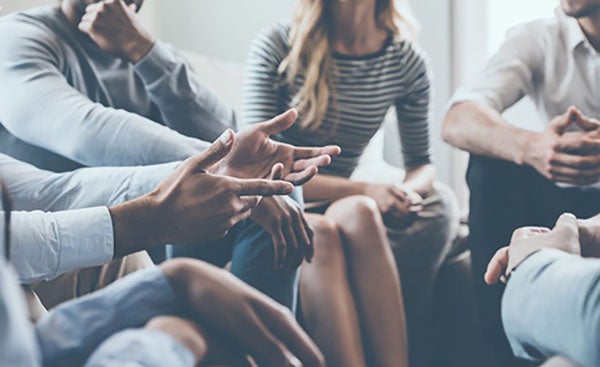 After events like the shootings at Stoneman Douglas High School and Santa Fe High School, natural disasters like Hurricane Harvey, which devastated the Gulf Coast in 2017, and mental health epidemics like suicides on the rise, providing mental health assistance in a calm and collected manner to those directly affected by such tragedies is more important today than ever. 
Senior Lecturer Terry Hemeyer, Moody College of Communication and Pierpont Communications Executive Counsel, recently led a discussion with the Houston and Bay Area Mental Health Providers NET on how these talented mental health care providers can respond to crises and further promote mental health in today's world. During the discussion, members of the NET engaged Terry by running through different scenarios, all of which are events that could happen at any minute and spur a crisis in their communities. They talked through their questions relating to these real life events, and though every situation presented was unique, their responses to these crises had several key underlining best approaches. 
Have a Plan in Place
It is important for organizations to have a crisis management plan, no matter if they have two employees or thousands. While crisis situations are inevitably daunting and it is tempting to run from problems, it is important to not let the heat of the moment overtake the need for a levelheaded calm demeanor. Having a plan in place beforehand reduces the burdensome stress that comes when disaster strikes. 
For example, if a smaller organization with only a few employees comes face to face with a crisis, having a designated meeting spot or a phone number to call with within the first hours of a crisis is important to keeping the situation under control. For larger organizations, having one or two pre-designated media spokespersons is an easy way to keep false information from spreading and supply employees and the public with up-to-date knowledge on the situation. 
In a world of instant communication via social media platforms, the media and potentially employees of organizations facing a crisis may spread false information about what is happening internally. Media training and preparedness on what to say and what not to say are critical to making a crisis management plan run as smoothly as possible. Having one or two people who are prepped and ready to talk to the media in an eloquent and calm manner is necessary to keep information current and rumors at bay. 
Get Your Foot in the Door
One of the best things a mental health provider can do is get their foot in the door with organizations around them before a crisis ever happens. Letting businesses and organizations in your area, such as schools, malls and movie theatres, know what you do and that you are willing to volunteer your services in the event of a crisis will help you develop a relationship before disaster strikes. 
Once you have established a relationship, organizations are more likely to remember you and that you are willing to help them in the heat of the moment when judgment is blurred and chaos is everywhere around them. While organizations may reach out to you in an event such as this, getting your name out there to those around you is a good idea and a great way to offer your positive gifts and talents during a time when everything seems negative.  
Hemeyer suggested that one way to share such information about your company is through a one-pager about who you are and what you do. This gives the organizations you might potentially be working with a clear, laid-out idea of what professional services you offer while they are in a clear and calm state and before anything negative happens.
Establish Credibility in a Crisis
When a crisis hits, people naturally have a tendency to get very emotional and to let their judgment get clouded. When mental health professionals are brought in to provide services to those who have gone through a worst possible scenario, it is important to let those affected know that the main focus of the professional's presence is to help them. It is important that those who are there to help are identified immediately and clearly so there is no confusion as to who they are. 
Crises are inevitable in this day and age, with a large majority of them having some tie back to mental health, whether the perpetrator has anxiety or depression, or the people affected need help dealing with the resulting trauma. Being prepared as an individual and organization is critical to the success of managing a crisis and making sure that everyone involved is well. Be proactive – ask what you can do for those around you and how you can be of assistance with your own services or in finding them the help they need. In doing so, not only can we manage crises more effectively, but we band together and make our communities stronger in times of crisis. 
As Executive Counsel for Pierpont, Terry Hemeyer advises clients on reputation and communications management, as well as preventing and navigating crisis situations. He is also an award-winning educator, currently serving as a faculty member at both The University of Texas at Austin and Rice University's Jones Graduate School of Business, where he teaches crisis management in the MBA program. Pierpont Intern Madeline Fordham, a contributing author to this Insights blog post, is a junior marketing student at the University of Alabama.