Defying Eurocentric Norms in Graphic Design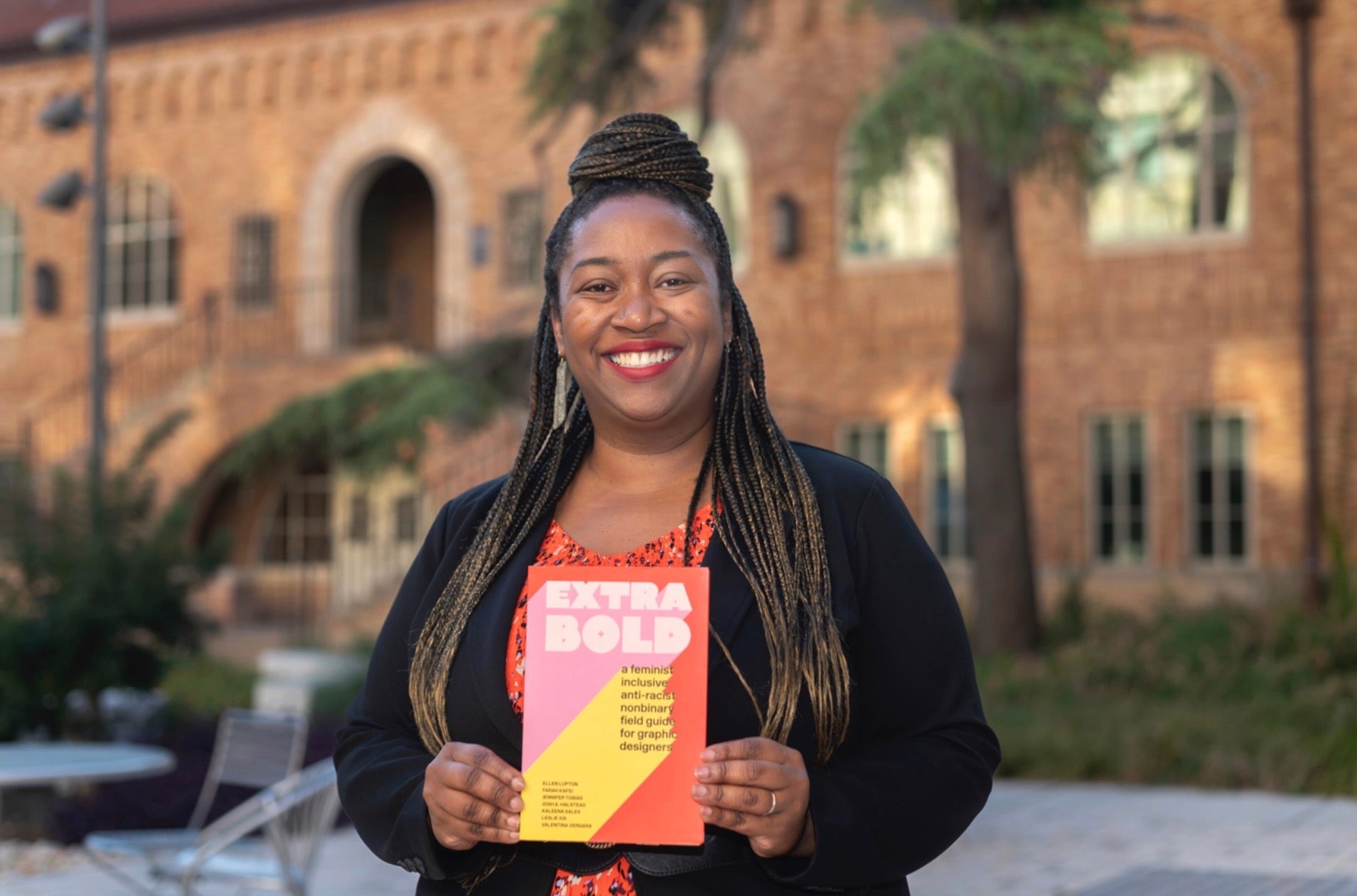 The Stan Richards School of Advertising and Public Relations hosted graphic design professor Kaleena Sales in order to discuss the obstacles facing graphic designers of color in a world dominated by one aesthetic.
The world of graphic design education needs to acknowledge and seek inspiration from non-white creators, Sales, associate professor of graphic design and chair of the Department of Art and Design at Tennessee State University, told about 30 students at the University of Texas on Sept. 20.
"In design, most of what we're taught about is really from a European perspective," said Sales. "You don't often get taught about African Adinkra symbols or other cultural examples of design." 
During a guest speaker event at The Stan Richards School of Advertising and Public Relations, Sales discussed obstacles facing aspiring designers of color and the Eurocentrism in the industry. Most graphic design students learn Swiss design methods such as simple composition, flat colors and sans-serif typefaces, Sales said. Non-Eurocentric design techniques, which often use textured and layered backgrounds, complex compositions and bold colors, tend to be overlooked in higher education, she added.
Due to the disconnect between Swiss design and other techniques, designers whose work is more complex, colorful and culturally influenced tend to have a more difficult time finding work in the graphic design field, especially at the corporate level, Sales said.
Socioeconomic status can also affect design, Sales said.
"If you grew up well off, you might have a very neutral approach to designing a logo for a bank. If you grew up where money was not around, your representation of a bank might be very different in terms of color choice or typography," Sales explained.
There have been some attempts to challenge the dominant paradigm in design, Sales said, notably AfriCOBRA, a 1960s African American art collective out of Chicago. The group crafted a list of principles for their work, which was intended to reflect their culture and resonate with their community.
"I am very inspired by people who have successfully gone against the grain and challenged mainstream narratives [in graphic design]," Sales said.
 There is a bright future for more minority representation in graphic design, and it is vital that students of color continue to let their personalities and culture shine through in their work.
"Rather than squeezing into the canon, we're saying, 'let's make the canon more elastic, so it includes what we do and who we are,'" said Sales, quoting member of AfriCOBRA Michael Harris.
 Dr. Natalie Tindall, Director of The Stan Richards School of Advertising and Public Relations at UT, said Kaleena Sales' critical scholarship and design work on identity were an excellent addition to what is being taught at the Stan Richards School. "Our students and the Department of Design students appreciated her insight and knowledge."
Valerie Salinas-Davis, a lecturer in advertising and public relations at UT, said she agreed with Sales' perspective and sees a similar lack of representation in her own field.
 "There is a place for more of the culture and authenticity that Professor Sales is representing in my world, which is environmental communication, corporate social responsibility and public health," Salinas-Davis said.
 Tiffany Sun, a senior advertising student at UT, thought the lecture was a great reminder to stay authentic and never compromise who she is as a person for a job title.
 "I feel reaffirmed in my responsibility to use my background and culture to tell a story through my works," Sun said.
 "People are able to understand cultural interpretations when they want to, such as in entertainment, so I think we've just got to continue to challenge the industry to appreciate it within design," Sales said.