Alumni Spotlight: Zoie Hing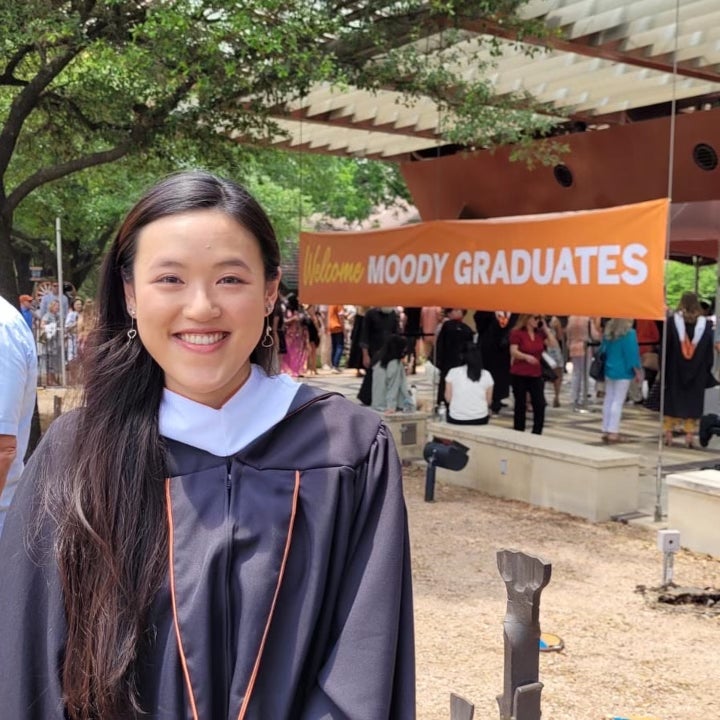 1. What has been your journey from the program at UT to where you are now?
I was always a really big researcher. I was lucky enough to be an undergraduate research assistant. I knew I wanted to teach down the line, so obviously I would need a master's and then a Ph.D., so I was looking at universities that would give me strong practical experience. Throughout the two years, I went in knowing vaguely what the different roles in advertising were like, but within the first year, I realized that I wanted to be in strategy and analytics. I like taking all the observations I have and building together a case, like a lawyer would make, to produce a really strong-founded idea. That's kind of why I liked the thesis route.
It's weird to think that I'm no longer a student. It has just been a month or barely a month ago. I'm in the midst of moving. I'm moving to Houston by the end of the week. I just got a full-time job offer Saatchi & Saatchi as a market insides analyst, which is essentially just a researcher for their strategy team. I work specifically with the Dallas/LA office, and I'll be on the Toyota account.
2. What experience or person made the biggest impact on where you are today?
Oh man…UT is kind of crazy in the fact that within two years, they whip you into shape. There is so much to experience in just four semesters. I think the biggest, life-changing thing was meeting my TA professor, Dr. Liza Lewis. She's just such a cool woman! She teaches the capstone or senior-level classes for undergrads, so it was really nice, because I was watching these students prepare to go into the real world, and I was like two semesters away from doing that myself. Since I came from a super small school, with no connections or business preparation, it was really nice to watch Dr. Lewis coach these students and learn myself to be better prepared. She was also super nice when I got my job offer and helped me, like negotiate and know what kinds of questions to ask.   
3. What sparked your interest in advertising and/or public relations? 
The professors. I was grateful that there is such a strong mix of really well-spoken academic professors like, Dr. Natalie Brown Devlin and Dr. Jeeyun Oh are some of my favorites. They just made the material so digestible even though they were complex things like metrics and analytics or really hardcore communication theories. They were always super nice and always made sure we understood what was happening and we could always ask them questions.
4. Why did you choose UT's program? 
Besides the cost and the #1 ranking, the location (Austin) was a little closer to home. I had never visited Austin before. I literally packed my things and came here, and then we were remote for a year!
5. What was your favorite memory about the program? (could be a person, place, idea, or experience.)
I made my first, super-close friend because of that massive ice storm in 2021, where the city shut down. I had no power or water and I remember we had one team project, and I had her number, so I messaged her to see if I could stay with her. Now she's my best friend! Peak graduate experience. Most of my experience was during COVID, so one of the only times the majority of my cohort was together was during the campaigns class. That's because the people from the different tracts (TXM&A, TX Creative, TX Immersive, and general) comes together.  
A really rewarding experience, was when I took an introduction to creative class with Sean Labounty. I never had a professor like him before or had such a project-orientated class with a creative-orientated professor. So, surviving all the feedback and being complemented at the end like, "wow! This campaign is super good." Was really surprising because I think it's hard to teach people to be creative. It's something you need to go through multiple times to get better. It was a really cool experience and I was like, "wow, this is what real advertising is like."
6. What words of advice do you have for those applying to or already in the program?
For those applying: I remember being super stressed about the scores and the application process, but I think in a personal statement, say why you love advertising or why you want to learn more about it. Also, express your interests. If you're into streaming video games and want to know how that industry works, or if you're into research and want to see how specific theories applies in the real world, then say it! Advertising is so cool because it applies to everything.  
For those already in the program: Do your work and be kind to your teammates. Have each other's backs because grad school is hard. Cover for each other when you can, and you never know who down the line can help get you that job or internship or save you down the line.
7. What was your favorite non-academic pastime while you were a student at UT-Austin?
Besides taking a nap when I could? [laughs] I actually played a lot of video games. Especially because it was the pandemic, and I couldn't go out very much. My only free time was really late at night, I would watch a lot of video game streams or play with my friends really late at night as kind of my stress release before I went to class the very next morning.