Faculty and Industry Panel to Discuss Rebranding Climate Change
By Xing Liu
Faculty and industry leaders will discuss the challenges facing the next generation of environmental and science communicators in a forum on Thursday, Feb. 25, at the Belo Center for New Media.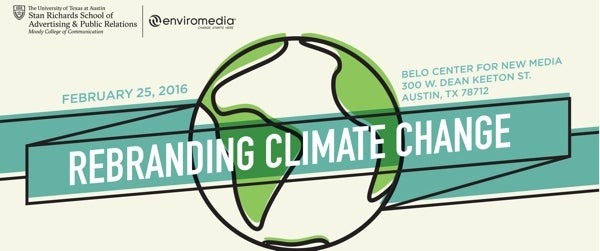 The first panel, from 2 p.m. to 3:15 p.m., will be in BMC 5.208. The second panel will be in BMC 2.106 from 3:30 p.m. to 4:45 p.m. Both panels are free and open to all students and the public.
"Our students will learn about the range of aspects involved in climate change, hearing from experts that are doing communication research in the Stan Richards School, in industry, law and entertainment," said Dr. Pat Stout, director of SRS. "To understand the complexity of the issue and the challenges, and be able to be engaged with change, is the goal of this forum."
Stan Richards School faculty Dr. Lucy Atkinson and Dr. LeeAnn Kahlor will join the first panel to discuss research on green advertising and indoor air quality, particularly as it relates to products labeled air fresheners and air cleaners.
Specifically, Atkinson will share the results of a study she conducted on green ads and how consumers process those messages. Kahlor will elaborate on research that shows consumers want products that sell themselves as "good" for the air, although some of those products may do more harm than good.
Other participants on the first panel include moderator Valerie Salinas-Davis, co-founder of EnviroMedia; and Dr. Deborah Morrison, Professor of Advertising at the University of Oregon School of Journalism and Communication.
Participants for the second panel include moderator Kevin Tuerff, co-founder of EnviroMedia; Dr. Kris Wilson, Senior Lecturer of Journalism at The University of Texas at Austin; Katherine Carpenter, Cultural Cognition Project at Yale Law School; and Dean Carter, VP of Finance and HR at Patagonia. 
EnviroMedia, co-founded in 1997 by University of Texas at Austin alumni Tuerff and Salinas-Davis, develops behavior change campaigns related to air, water, energy, waste, alternative transportation and public health.
February 17, 2016