Rebranding Climate Change with Responsibility and Accuracy
By Xing Liu and Betty Xue | March 7, 2016
Climate change seems to be on everyone's lips these days – from the cashier at the grocery store asking for a donation to save the planet to Leonardo DiCaprio addressing the issue in his Oscar acceptance speech.
It also was the subject of a recent forum, "Rebranding Climate Change," co-sponsored by the Stan Richards School of Advertising & Public Relations and EnviroMedia. Across two panels, faculty and industry leaders laid out the challenges and possible solutions for the next generation of environmental and science communicators.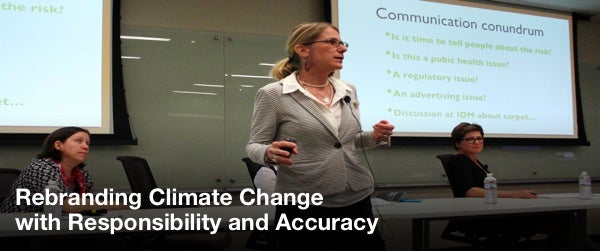 In the first panel, Stan Richards School faculty Dr. Lucy Atkinson and Dr. LeeAnn Kahlor identified problems students may face after graduation if working for companies or clients who aren't as environmentally friendly as they purport to be in advertisements and marketing campaigns.
Throw a stone in any grocery store aisle and you'll hit at least five products with an eco-label declaring their safety to the environment. But, according to a study by Atkinson on green ads and how consumers interpret them, not all eco-labels are created equal.
"Some of those labels are legitimate," Atkinson told the audience in the Dean's Briefing Room. "You have to pass a really high bar in order to put this label on your product. And yet, other labels are meaningless. One of my favorites is one hundred percent chemical free. We are made up of chemicals. There is no such thing as chemical free. And yet, those are the labels that consumers might find appealing in the store."
Atkinson's study further found that the ideas promised by the eco-labels often seep into a company's advertising. Often, the claims made in green ads are superficial, with little science behind it. And yet, as consumers, we want to believe that we're helping the environment by paying more for a product advertised as environmentally friendly.
What can advertising and public relations students do on the job to counter questionable claims? "You need to think about your larger responsibility," Atkinson told students, "not just to your client, but to the consumers and the bigger picture of climate change."
On the other hand, what messages should communicators deliver about emerging environmental issues like indoor air quality when the science is still uncertain?
Kahlor, elaborating on research into products labeled air fresheners and air cleaners, explained that many air fresheners contain chemicals that may be harmful when inhaled.
"Air fresheners can be harmful, but how harmful?" Kahlor asked. "And who does this matter to? It matters to the elderly, infants and toddlers, and particularly those who live in low quality housing.
"But none of the research suggests that the effect is going to be certain for all consumers, and therefore we need to ban air fresheners," Kahlor said. "Do we need to tell people everything right now? And how would we do it in a way that wouldn't create a backlash?"
Ultimately, advertising and PR students need an understanding of environmental, health and political issues in order to craft responsible messages that educate the public about climate change.
While the first panel spoke about responsibility, the second panel advocated for more accuracy in how we communicate about climate change. Words matter and precise language is paramount for the public to understand the causes and consequences of climate change.
Dean Carter, vice president of finance and human resources at Patagonia, shared with the second panel audience of advertising, PR and journalism students how his company strives for transparency and accuracy when telling customers about their ecological footprint. The outdoor apparel company based in Ventura, California, believes that authentic product quality and environmental activism can go hand-in-hand.
"On our website we admit to the damage we do to the environment," said Carter, a University of Texas at Austin graduate in Organizational Communication. "At the same time, our founder, Yvon Chouinard, is committed to doing the least possible damage to the earth."
And that commitment hasn't damaged the company's bottom line. "You don't need to sell out to make money," Carter said.
At the end of the day, the forum was an opportunity for students to learn more about the challenges they'll face as the next generation of environmental and science communicators.
"If nothing else, we wanted to be provocative and to get students to think," said Valerie Salinas-Davis, co-founder of EnviroMedia and moderator of the first panel. "I hope they question any environmental claim they come across or any advertising they are promoting in the future." 
It seems that Salinas-Davis may have accomplished her mission, at least for a few students summarizing the event.
"It really hit home for me how important it is for PR and advertising students to know how to communicate about the environment appropriately, to ask the hard questions about the environment," said Gabrielle Marcus, a sophomore PR major. "PR and advertising students must be prepared to step up and talk to future bosses and clients about the benefits and ills of sharing your environmental story."
In addition to Carter, participants for the second panel included moderator Kevin Tuerff, co-founder of EnviroMedia; Dr. Kris Wilson, Senior Lecturer of Journalism at UT; and Katherine Carpenter, Cultural Cognition Project at Yale Law School. Dr. Deborah Morrison, professor of Advertising at the University of Oregon School of Journalism and Communication, participated on both panels.
EnviroMedia, co-founded in 1997 by UT alumni Tuerff and Salinas-Davis, develops behavior change campaigns related to air, water, energy, waste, alternative transportation and public health.
March 7, 2016
Photo credit: Cassandra Martinez