From the Forty Acres to the Red Carpet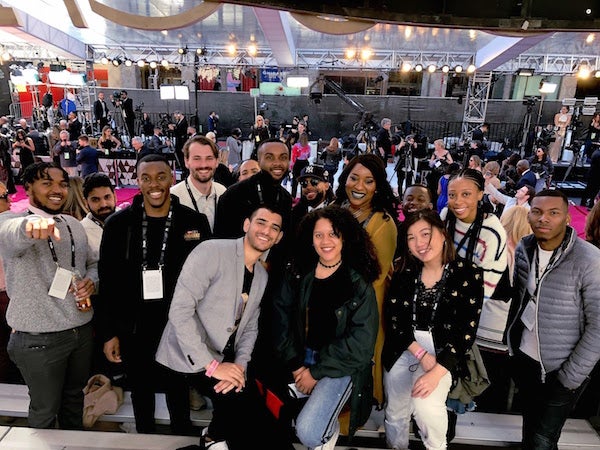 Although I ended up at the Oscar's red carpet, my journey began on the forty acres.
Around the fall of 2017, the T. Howard Foundation came on campus to give a presentation encouraging students to apply to the T. Howard Internship Program. The foundation's mission is to promote diversity in the media and entertainment industry by placing interns in programs with top media companies across the nation. I applied to become an intern, got in the program, and then got paired with Univision in Los Angeles as a summer Creative Services Intern.
On my first day, the head of human resources at Univision let me know that I had also been selected to participate in the Academy of Motion Pictures Arts and Sciences' own summer internship program, the Academy Gold program. Being a Gold intern meant I would have access to exclusive panels, interactive workshops, members screenings, studio tours, and networking opportunities with Academy members and film industry professionals.
One of the most important things I learned at the Academy is that the film business is exactly that, a BUSINESS. At almost every panel I attended as a Gold intern, my eyes were opened to the crucial roles that marketing, advertising, and public relations play in order for a film to take flight and become a phenomenon. I definitely see myself working in the entertainment industry and have no doubt in my mind that UT's advertising program has given me the tools I need to succeed.
In January 2019, with the 91st Oscar Award Ceremony right around the corner, the heads of the program invited the Gold alumni to attend the Oscar Fan Experience. I replied and was flown out to L.A for the Oscars! Next thing you know, I was an arm's length from all my favorite celebrities and saw many of my fellow Gold interns on stage, handing out awards. This was a once in a lifetime experience.
"I want to thank the Academy..." Gold program for investing time and resources in young and upcoming talent, for believing in the need of diversity and inclusion in the entertainment industry, and for selecting my fellow Gold interns and I, with an unforgettable evening! (cue music)