Two iconic, but very different, brands have joined forces for one of the most interesting  collaborations of 2020. Supreme, the popular street wear brand known for limited quantity releases leading to long lines and a high reseller market, has teamed up with Oreo to make Supreme-branded Oreos. One might ask, what do these two brands have in common? While these brands are very different in both category & price, they share commonality in their creativity with product design. Supreme has everything from streetwear clothing to Supreme nunchucks to even a Supreme fire extinguisher. Oreo too has dabbled in many different product designs over the years, even partnering with the popular candy brand Swedish Fish to make a "Swedish Fish" flavored Oreo (gross).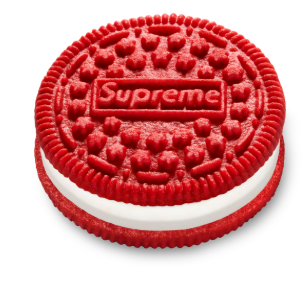 Supreme has a "cult-like" following which consists of fans having to either preregister online or line-up outside their shops for hours (even days) for a chance at purchasing some of the brands limited release attire. The exclusivity and culture around their brand has their loyal following scooping up whatever they can get their hands on, but it has also sparked a large resale market. Make no mistake, the markups on Supreme gear can baffle any average shopper. 
Rumors around the price of these Supreme Oreos vary, but multiple sources have said that they are set to come out with the Spring/Summer 20 release at a price of $8 for a 3-pack. A normal family pack of double-stuffed Oreos runs around $3.56.. Listings on eBay have varied for "presale" packs of these exclusive Oreos; they range from $30 to a ridiculous $4,000.  
Whether you pick up a pack of these limited-edition Oreos or not, it is likely that you saw them on one of the many social media sites or heard about them through a friend. Both brands garnered tons of media coverage through this unique collaboration; the announcement on Twitter bolstered 19K retweets and over 67K likes. The excessive amount of earned media for both brands is what marketers know is the true goal of PR stunts of this sort.
What do you think of this interesting brand collaboration? Let us know on one of our social pages @TXADPR and vote on our Instagram poll: Cop or nah?