Student Spotlight: Carolyn "CJ" Holce
Tell us a quick summary of your background - where you're from and your previous studies/work experience prior to UT
I grew up in Portland, Oregon. Then, for undergrad, I attended the University of Colorado at Boulder where I double majored in Advertising and Spanish for the Professions (basically how to be professional and do business in Spanish). While I was at CU, I had three internships. My first one was handling promotions for the local ESPN radio station. Then, I interned at an advertising agency called Rauxa in San Francisco for the summer as an Account Management Intern. Lastly, I interned at Egg Strategy my senior year as a strategy intern working on CPG and lifestyle brands. After graduating from CU, I spent a few months backpacking before my parents said I had to get a job. So, I moved to San Francisco unemployed and two months later, a creative communications agency called Praytell hired me as a Junior Brand Strategist. Over two years later and I still work at Praytell in their Austin office while I get my Masters.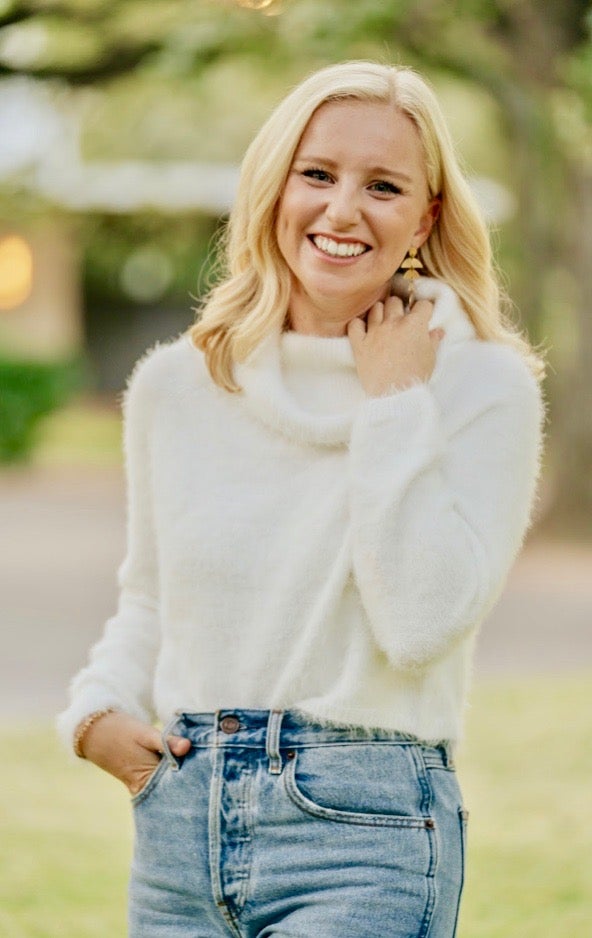 You work at Praytell. Can you tell us a bit about who they are and what they do as a company? 
Praytell is a creative communications agency that started in Brooklyn, NY around 8 years ago. Our bread and butter is Public Relations, but we also handle social media, paid media, film, and events. Our clients range from Uber to Evian water to Match.com to MAC cosmetics and more. Praytell has done some crazy things — like helping our client, 10 Barrel, launch a beer in honor of the last Blockbuster on Earth to making Andy King from Fyre Festival the face of Evian. No day is ever the exact same at Praytell and that's what makes it so fun.  
How did you get your start at Praytell? 
When I moved to San Francisco unemployed, I probably messaged 30+ account planners and brand strategists on LinkedIn asking if I could buy them coffee and learn more about what they do and their company. A friend I met with worked at Argonaut, our sister agency, and so I ended up keeping an eye on Project agencies. I never thought I'd work at a PR agency instead of a traditional ad agency, but when I saw the Praytell listing on Glassdoor, the job description fit me perfectly. I applied and the rest is history!  
What is your role and what are your responsibilities at Praytell? 
As a junior brand strategist, I do a variety of things from competitive audits to social media strategy and content. 80% of my role is new business. Every week it's my job to research a new potential client and understand its competitive landscape and industry in order to create a new strategy that aligns with their PR (or social) goals. Often, I have a week or less to do these new business pitch decks. Some weeks, there's 3-4 new business decks so my responsibilities are constantly changing based on what that deck needs. Otherwise, I do consumer research and content strategies for current clients like Tito's and PepsiCo. My responsibilities range from reporting to analyzing consumer trends and creating POVs for clients. Anything that helps solve a problem for a client is part of my responsibility.  
Why did you decide to come to Stan Richard's School of Advertising and PR? 
I was bored being unemployed in San Francisco and applied to the program on a whim. Going to Stan Richards for undergrad was my dream and I never got in. I always knew UT was an amazing school and that Stan Richard's was a top program, so I figured if I couldn't land a job in SF, I could always go get my Master's. UT's Master's program is the best in the nation so I knew it would be a valuable experience. When I found out I got in, I was lucky enough that my boss at Praytell told me I'd be crazy not to go and allowed me to continue to work at Praytell while I get my Masters. 
What are your plans post-graduation? 
As of now, all I know is I'm happy in Austin and will be staying here a bit longer. Post-graduation, I'll have to decide where to continue my career, but regardless, I'm so grateful for what Praytell has taught me and allowed me to do while I'm in school. No matter what, I plan to stay in account planning.   
Do you have any advice for future students of the Stan Richard's School of Advertising?  
Ask as many people as you can if you can buy them coffee to get to know them; everyone was in an unemployed student's shoes once and they'll want to help as much as they can. And when you do land that first internship or junior role, stay hungry. Learn as much as you can about every department and every client so you can truly learn what you love to do.