A Longhorn's Legacy: Lisa Bennett's Journey from UT to Advertising Prominence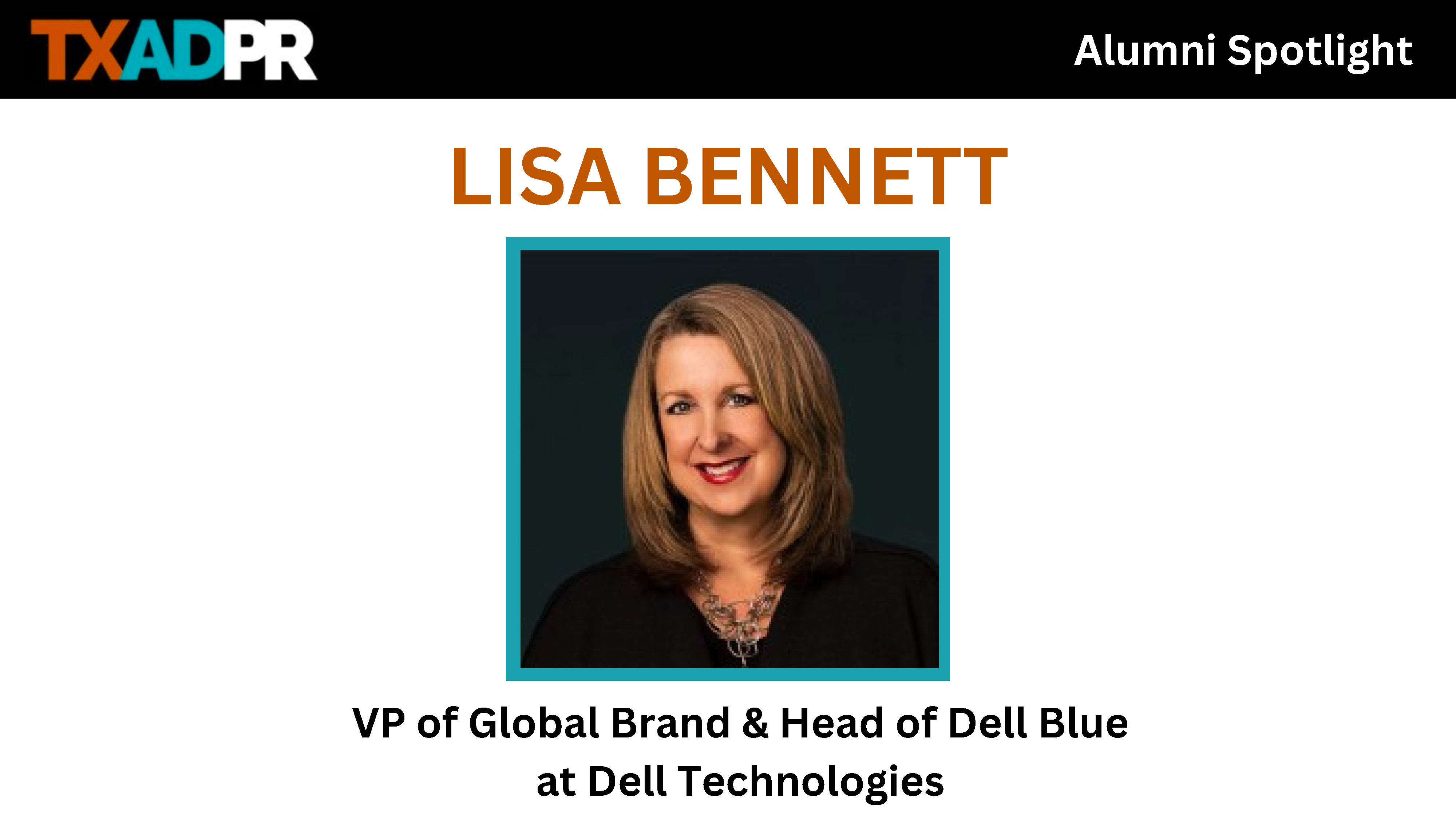 From Leo Burnett to DDB, TM Dallas, independent brand consulting, coming back to UT to build The Lab and now serving as the VP of Global Brand & Head of Dell Blue at Dell Technologies, Lisa Bennett's impeccable career is one for the books. As we sat down for a coffee chat over Zoom, our fellow Longhorn and native Austinite walked me through her time at UT, her long, exciting, and ongoing journey in the world of advertising, the challenges she faced along the way, and how she powered through it all. Here are snippets from our interview, and everything I learned about and from this advertising pro.
Who is Lisa if she could not mention where she's from, her educational background, and her career path?
Without much thought, almost instinctively, Lisa described herself as a passionate and curious person who loved to learn new things, take risks when it made sense, always challenge the status quo, and get comfortable with the uncomfortable. She sees herself as not just a creative person who enjoys art, writing, and music, but also someone who finds interesting ways to bring ideas to life by solving problems creatively.
How did she get started in advertising? 
Coming from a musical family and growing up in the live music capital of the world, Lisa joined UT as an undergraduate on a music scholarship. Though passionate about music which she continued pursuing with UT's Wind Ensemble where she played the Clarinet,  she was quick to realize she did not want a career in the music industry. This is when she started exploring other courses and stumbled upon the 'Introduction to Creative Advertising' class. She was enrolled in this class during her sophomore year. Growing up drawing, painting, and writing, she fell in love with this course that brought it all together, packaged with a lot of scope for creativity. She was then invited to the portfolio program, which we now know as Texas Creative, as it did not have an application process. In her junior year, she joined the program as a copywriter and art director not wanting to choose between two paths, both of which piqued her interest.
Lisa's Advertising Journey
December of her senior year was the portfolio review and critique where Lisa met with executives from Leo Burnett - Chicago, the agency she was enamored with and whose work she absolutely loved. Despite getting great reviews, she did not hear back from them. Though she continued reaching out to other agencies, she was persistent about Leo Burnett and scheduled a site visit to speak with them again. That's how she landed the job where she excelled in her work and empowered people to win for the next 14 years. Starting as an Art Director trainee, she was one of the select few to get absorbed very early on and permanently into the company. Five years later, at only 27, she went on to become the youngest and one of the few women Creative Directors, moving up to the Executive Creative Director and Executive Vice President roles fairly quickly. 
She was then brought on board as the Managing Partner and Chief Creative Officer at DDB, San Francisco, to elevate the creative product that DDB Worldwide was. Working on the Clorox account, which was highly functional and product attribute-centric, she took it up as a challenge and convinced the client to position the brand as benefit-oriented by creatively narrating the brand and product story. Two years later, DDB San Francisco won their first Cannes Lion, which was also a first for the client, thus attracting not just better clients but also better talent.
Lisa then moved on to her next challenge - consulting for brands independently. Her first client was E.L.F. Cosmetics, where she helped a friend who was the CEO of the brand then, with brand positioning and brand story building keeping strategy and creativity at the crux. After having worked with the big fish and exploring independent consulting, she also wanted to dip her feet into small agency culture. That's when she moved to TM, a small independent agency in Dallas before coming back to her home turf, The University of Texas.
After seven years in the Moody College of Communication's Advisory Council, Lisa was invited to step in as the Executive Director of The Lab. Here, she built the Integrated Marketing Communications course along with the Professors handling that class, to give students a taste of agency life with an opportunity to work with a real client on an actual client brief. They are assigned to work together in teams including one representative from the strategy, media, creative, account, and PR teams, to prepare them for how advertisers work in the real world. One of the clients Lisa brought in was Dell Technologies, and it was her interaction with Liz Matthews, a Senior Executive at Dell that marked her entry into the company. Dell wanted someone who had agency experience and focused on creativity to run their in-house agency, and oversee the brand for global brand governance and brand identity maintenance, thus helping modernize it for the future. Having never been in the confines of a technology company, Lisa says she's enjoying this new adventure as the Vice President of Global Brand and the Head of Dell Blue, leaning on and learning so much from the people around her.
As the youngest CD at Leo Burnett and the only woman CCO at DDB what were the challenges Lisa faced as a woman professional in our industry, and how did she champion them?
20 years ago, when it was rare to find women at the creative helm of any agency, Lisa's biggest challenge was, without question, overcoming gender bias. She never wanted to be treated differently because she was in a role typically held by men and had to demonstrate how she was deserving of that role regardless of her gender through hard work and a positive, can-do attitude every day. One of two women on the 24-judge panel of the International Film Jury at Cannes Lions, when she was asked why there were so few women on the jury, Lisa said "because there are so few women in the role of CCO at agencies today". While the gender gap is shrinking, Lisa still urges men who still dominate the senior roles at agencies to change the ratio by supporting, promoting, and hiring women. "We still need to do a lot of work!" she said.
The UT experience - What has changed, what remains, and what should we as Longhorns take advantage of?
What has not changed, as Lisa accounts is, "The strong sense of pride wafting through the halls. There are still a lot of smart, eager, ambitious students. And the professors are still some of the nicest, most knowledgeable, and supportive I have ever seen." 
Technological advancement is the biggest change she notes since when she was a student. "The tools that students have now enable learning to happen much faster, broadening your view of the world way more than when I was at UT. Your understanding of technology and ability to utilize it will make a huge difference in your future career."
Being a proud Longhorn herself, she asks us to never underestimate how valuable a degree is from The University of Texas. "UT is one of the best universities in the country and employers hold its graduates in high regard." Along with this privileged tag, she suggests that we include some our UT experience in our resumes and speak about it during interviews. For example, the valuable experience gained in key courses like Integrated Campaign Communications where you learn how to work with real-world clients on real briefs will show a potential employer that you are ready for the real world. Along the way, she also urges us to follow agencies, companies with in-house advertising, and the work they produce, and take advantage of UT library sources like Ad Age (available only on campus) and others like AdWeek to see what the latest trends are and what companies are being recognized.
With the evolution of advertising and tech advancements like AI, what does Lisa see as the way forward?
"Advertising is no longer one-sided. It is not merely a print ad or a TV commercial that tells people what you think they want to hear." Today's advertising as we know and Lisa attests, takes many forms and is focused on creating a conversation. As marketers, we must find new and compelling ways to rope in consumers in this conversation as they are the prime messengers of any communication. To make this happen, Lisa insists we strongly consider how we can motivate consumers to share content, create their own content, discuss with their communities, or engage with our brand and talk about their brand experiences. 
Lisa is also fascinated by how working on brands, coming up with ideas, and helping market different products and experiences can now be done within a company itself. She finds this exciting because when you are closer to the brand, you are able to learn about and understand the product and process from the inside. This in-depth knowledge and product understanding, she notes, is hard to achieve as a third-party vendor like an agency that comes in much later, trying to learn and meet the right people. "When on the brand side, within the company, you will be so much more tied to the brand and will be able to deliver client and customer needs better", she said.
She also mentioned how working at a technology company has molded her perspective around the recent developments in AI. She sees it as a source of inspiration rather than a threat to our jobs. With constantly evolving roles, she stressed the importance of us adopting and adapting to AI, learning how to use it to our advantage, and catering to our customers better by working more efficiently, freeing up time spent on tedious, time-consuming tasks to do more important things.
What is Lisa's advice for students trying to make a mark in advertising? What would it take for them to shine and emerge as leaders?
"Be curious and always see where the road is going, what you are doing, what it looks like down the road, what you can do to contribute, and how you can help others along the way." She urges us to learn from others and take up new challenges. For instance, the inverse of her career - starting in-house and then taking that experience to an agency - is something she strongly suggests students to consider. We will be more attentive to detail, and truly learn how brands/clients work, what they care about, the journey of the product, its development, and how we are bringing it to the market, which will reflect as more informed and successful agency careers later down the lane.
To emerge as a leader, Lisa stated that passion, persistence, and participation are a given. If you can be someone who cares deeply, has a positive attitude, and is willing to take on new challenges, she notes that you will be seen as a leader. In her own words, "One's job is only as good as they make it. If you find yourself in a toxic environment, change it. If you can't change it, move on. I think any competitive field comes with a great deal of pressure, but I believe in moving at a pace that works for you mentally and physically. If you can show your worth by adding tremendous value and being a team player, people will support you."
How Lisa sees this, Life is too short to not love what you do. So, her top and parting advice was that we surround ourselves with people who bring us joy and be in an environment that gets us excited about showing up every day.