Next stop… Washington D.C.
First generation college student and current junior at the University of Texas at Austin, Giovanni Gutierrez, applied and was accepted into The Archer Fellowship Program for the upcoming fall 2018 semester.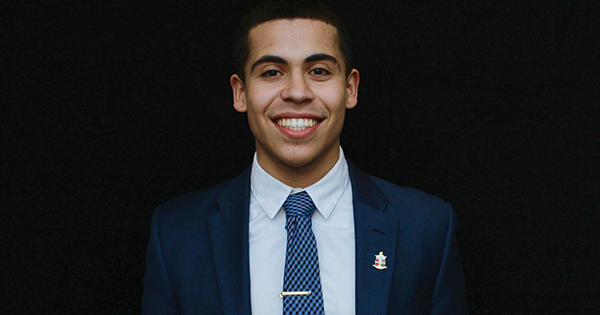 Interest in law attracts students from all majors and disciplines, and the culture of graduate school is not dependent on a single kind of student. Due to the competitive nature of the application process and high drop-out rates in first year students, seeking information and figuring out if law school is truly for you is fundamental in the decision process. The Archer Fellowship Program at The University of Texas at Austin (UT) was founded to bring successful students to Washington D.C. to gain professional and academic experience in internships varying from Capitol Hill to the White House. Conjoining the real-life experiences of the internship with classroom concepts and practices, the experience brings education and career experiences together. Through the experience, students are given the tools necessary to begin their respective careers.
First generation college student and current junior at the University of Texas at Austin, Giovanni Gutierrez, applied and was accepted into The Archer Fellowship Program for the upcoming fall 2018 semester. Check out the tips and tricks he discusses below ranging from the rigor of the application process to how his Public Relations (PR) degree aided him in this process and beyond.
1. What was the application process for the Archer Fellowship like?
It's a super competitive program, so I was very anxious throughout the whole application process. Were my policy papers good enough? Will I get an interview? Did they like my interview and will I get accepted? But I dealt with the anxiety of being proactive. I knew the importance or the need of going to the writing center to get help on my rough drafts, or how helpful it is to set up a mock interview. By taking advantage of the resources UT has to offer, I made sure not only that I had the best application but that I was also prepared to present myself in a favorable way.
2. In what ways do you believe PR will aid in your journey to a law degree?
Public relations is helpful for law in various ways. My writing skills have improved greatly, which is essential for law school because one will be doing a lot of legal writing in forms of briefs, opinions etc. Furthermore, public relations has also given me the ability to think on my toes which is an important skill for lawyers. Through my crisis management class, students are taught to become critical thinkers and one who can think quickly when challenges are thrown at one unexpectedly.
3. What experiences/relationships have you had that strengthened your interest in law?
I honestly was not sure about doing law until last summer. I got admitted into a program called DiscoverLaw which took me through an intensive six-week program where we were taught by Texas Law professors and got a taste of what law school is really like. The challenges and excitement that comes from building your own case and presenting oral arguments against someone on the opposing side is a feeling that felt right to me. Having to dive deep into reading and challenge your mind to be open to different perspectives is a learning skill that is important for everyone to have.  Growing up and being stereotyped by the police also ignited my interest in law. For instance, having to see your mom get pulled over by the police as they talk to her disrespectfully asking her if she's a documented citizen, or getting pulled over with friends of color and getting our car searched for drugs. I want to represent those people who were once and still are in my shoes. I want to be able to represent people of color and those who are vulnerable to the systems of oppression in this country, especially Mexican-Americans, who have been prominent targets of racist rhetoric by today's government.
4. Do you have any advice for Moody students interested in law, and the Archer Fellowship?
First, find out if law school is for you. I have talked to so many people in the field who have said the biggest mistake is to go to law school to just further your education. It is a great financial burden and you need to know the exact reason why you want to go. Second, apply for law programs or go to law fairs. I have received the chance to connect with many important people but also get answers to pending questions regarding law school. Having the ability to pick the brains of these people is also a great help because one can see where their head is at and receive wisdom.