Organizations Young Professionals Should Know About
Graduation is coming quick, with a mere two months left in the semester. Although this means students will have to say their farewells to different university clubs and organizations, this doesn't mean students will have to figure out the next steps alone. Compiled below is a list of clubs and organizations for young professionals to take advantage of. These clubs offer resources, support and networks to help graduates thrive in the world of adulting.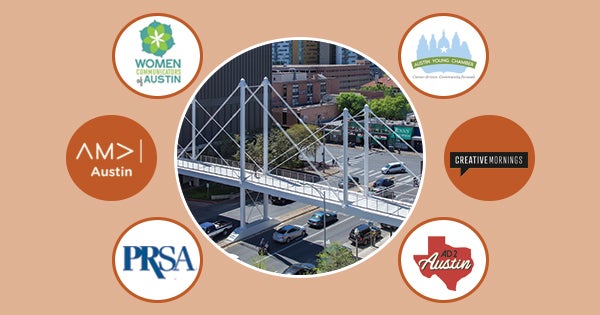 1. Public Relations Society of America (PRSA): New Professionals Section. This organization offers a section for public relations and communication professionals who are new to the industry, having less than five years' experience. This allows for a connection of peers who understand the challenges you may be facing fresh in your career and offer support and community. Newsletters, mentoring, podcasts, webinars and in-person events are offered to help build essential knowledge and skills to grow one's career. Before becoming a member, check out their website for benefits, free resources and a job center that displays open jobs in the field.
2. Austin American Marketing Association (AMA). The AMA offers luncheons, morning meetups, happy hours and special interest groups to benefit their members. They also host a variety of other local events with nationally recognized speakers, providing excellent networking and learning opportunities. This group is open to anyone with an interest in marketing and is sponsored by Pierpont, a public relations firm. From students to executives, this is a diverse group aimed at expanding knowledge and skills from a growing community.
3. Women Communicators of Austin (WCA): Student. For only $25, students or recent graduates up to one year after graduation can join WCA for a chance to network and learn with one of the largest and most diverse professional communications organizations in Austin. Although primarily composed of women, the organization does include a few men and aims to build a strong community of support for women in the industry. From content strategy, public relations, graphic design and more, the group gives a vast networking opportunity and accelerates career advancement with different events throughout the month, as well as a mentorship program.  
4. Ad 2 Austin. With members 32 years old or younger, this is a targeted young professional group meant to help build portfolios and professional skill sets. It offers different events, ranging from public service and community outreach to workshops. As an affiliate of the American Advertising Federation, joining Ad 2 Austin makes you a part of a larger creative community. Check out more of their benefits, job listings and blog posts on their website.
5. Austin Young Chamber (AYC). Generally between the ages of 20 and 40, AYC members are offered a variety of benefits and events to network with a local community and gain professional skills to grow their career and be successful leaders. From their LEAD Summit, Casino social and a pitching competition, this group thinks outside the box for networking and teaching to make it a fun experience for all.

6. Creative Mornings. This group brings together a variety of people in the local community who identify in some way as creatives. The group is a worldwide and choses a theme each month for each local chapter to have a speaker on. The meetings include free coffee -both cold brew and hot- and offer a unique chance to network and grow a community of people from all types of work and experience. After coffee, attendees can expect a short music performance by a local band followed by a speaker on the topic of the month. Their website and newsletter also offers different resources, such as fun job postings and relevant informational articles.