Reflections on a Momentous Career: An Interview with Professor John Murphy
Over the past 40 years, it would have been impossible for Advertising and Public Relations students to not know Dr. John Murphy. Up until his official retirement in December 2014, Dr. Murphy taught ADV 318J, Introduction to Advertising and Integrated Brand Communication, a must pass class for both majors.
But his interaction with students wasn't just confined to the classroom. To Dr. Murphy, truly caring for his students meant being available as both an enthusiastic supporter and the purveyor of the proverbial "kick-in-the-pants" – sometimes within the same meeting.
"John Murphy has been one of the main pillars on which our school was built and grew for the past 40 years."
 -- Isabella Cunningham, Ph.D.
Ernest A. Sharpe Centennial Professor
 in Communication
As noted by Dr. Isabella Cunningham, a colleague and friend: "From the beginning, John Murphy was known as a brilliant teacher. He has nurtured hundreds of undergraduate and graduate students and has made it possible for them to have successful and brilliant careers in advertising."
The Stan Richards School's Kristen Roman (MA '16) caught up with Dr. Murphy via email a few days before his retirement reception in April to talk about his momentous career at The University of Texas at Austin (view Dr. Murphy's full bio here).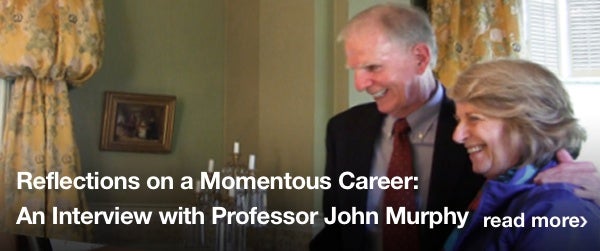 What will you miss most about teaching at UT?
My relationships with UT students. Yes, I have taught tens of thousands of students in the intro ad/PR course over 36 years. But, the students I am referring to number about 237. These are the students who I had the opportunity to work closely with in the AAF [American Advertising Federation] competition campaigns class or who worked for me as a Teaching Assistant, most of them for no pay, as volunteers.
What is your favorite memory of your time at UT?
My favorite memory is supervising a team of UT students who won the national championship in an advertising competition sponsored by the American Advertising Federation. That was my first year in the department 1975-76 and it was a great group of 18 and we travelled to Houston, Washington, D.C., San Antonio and Chicago. The campaign development process was intense with lots of late nights, but also lots of laughs. I remember it was also the first year of "Saturday Night Live" and the group and their young advisor got into that. The national convention, where they won the title, was a great experience in itself as the team was the kind of darling of the event and they received lots of praise. I could tell by the way the students looked at me that they appreciated what I had pushed them to do. It all paid off and everyone was proud and most satisfied.
For your students, what do you hope was their biggest takeaway from your classes?
Three key takeaways: (1) success requires hard work and attention to details; (2) the best ideas are simple ideas; and, (3) be different in your presentations to involve your prospects with no PowerPoint.
Do you have any advice for current and future professors?
The single most important characteristic of teaching undergraduates is enthusiasm. You must be excited about your subject.
What plans do you have for retirement?
Well, I have not completely retired. I did indeed retire from the Teacher Retirement System of Texas with 42 years of classroom teaching service effective December 31, 2014. But I came back to work for the Stan Richards School effective February 1, 2015. My return after a month off was as the program coordinator of an internship program jointly sponsored by the SRS and the American Advertising Federation. This internship program matches honors ad and PR students from universities across the country with host companies like IBM NY, Whole Foods Market in Austin and Los Angeles, BBDO NY and Urban Decay the cosmetics company.
Do you have a favorite John Murphy memory? Share your thoughts and images with us on Twitter and Instagram using the hashtag #MurphyMoments.
May 4, 2015