Texas Tower PR wins big at IABC conference
The student-run public relations firm Texas Tower Communications received an Award of Merit by the International Association of Business Communicators (IABC), a global network of communications professionals, at its annual Silver Quill Competition.
The award recognizes Texas Tower Communications for a campaign to raise public awareness for Health Alliance for Austin Musicians (HAAM). Students involved in the account team met with key players such as HAAM Executive Director Reenie Collins, volunteered at nonprofit events and created a public service announcement featuring musicians belonging to HAAM.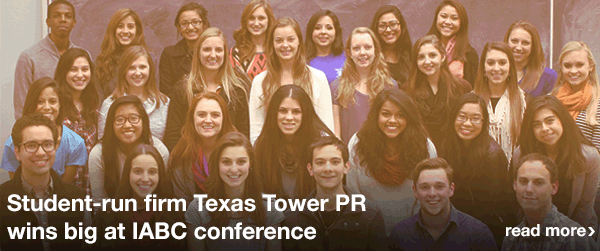 "HAAM is very grateful to Texas Tower Communications and UT students for working with us to produce a video," said Collins. "As a nonprofit organization, we did not have the budget to make a video so it has been very helpful."
Tower first learned about HAAM through a service learning class taught by Dave Junker, faculty advisor to Texas Tower. The class, Public Relations Techniques, requires students to create videos for local nonprofits and HAAM was one of them.
"We help each other out," said Junker. "They learned about HAAM from the class and Tower has introduced me to some nonprofits I've added to the list for class. They care about their nonprofit clients and it shows in the work they do. I couldn't be prouder of the award."
Texas Tower PR Account Executive Nathan Boone said his experience outside of class reinforced what he was learning in class and vice versa, and this helped them in their campaign for HAAM.
"Since I worked with HAAM in Texas Tower Communications, using class to help them was important to me," said Boone. "Everyone on my team in Texas Tower Communications and in PR Techniques contributed to pushing HAAM's message."
In addition to HAAM, Texas Tower Communications works with other local nonprofits such as Teatro Vivo, the Cancer Support Community of Central Texas, Manos de Cristo, and Energy and Resource Conservation at UT Austin. The firm works to support each nonprofit by aiding in public relation services, volunteering and student awareness.
Hugo Rojo, director of Texas Tower Communications says this award is the first of many.
"I've seen this firm grow over the past couple of years," said Rojo. "The impact we have on our clients and the professional development of our team has grown, too. I'm excited for what the future holds for future members of this organization."