Pedaling to greatness: A student's recap of a Texas 4000 summer experience
Public relations senior Rebecca Hoffman spent 70 days of her summer biking 4,000 miles to Alaska. The preparation for her journey to Alaska began 18 months prior, when she was accepted into Texas 4000, a nonprofit organization coordinating the world's longest annual charity bicycle ride.
Before her summer ride, Hoffman was responsible for raising more than $4,500, riding 1,500 training miles with her teammates and volunteering in the community. She was inspired to apply for the cross-country trek during the fall semester of her sophomore year.
"My grandfather on my father's side had passed after losing his battle with lung cancer before I was born," said Hoffman. "I always felt cheated that I never got to know the man that my parent's told me I was so similar to."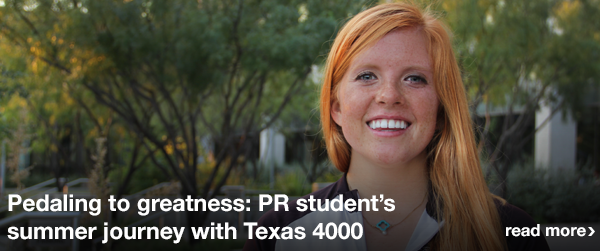 The sadness of never being able to meet her grandfather made Hoffman feel anger towards the illness, but also pushed her to find a way to fight cancer and help others in the future.
"I know that many have and will experience the same thing I did, but one day I want children to grow up knowing everyone in their family," added Hoffman. "There is no room for cancer in our society and I hate that it affects so many people in some way, shape or form."
With a team of 27, Hoffman was assigned the Ozark Mountain route. She went through eight states and six territories in Canada to reach her final destination of Anchorage, Alaska.
Texas 4000 has not only helped Hoffman impact the lives of others, but also helped her develop skills she could use in the communications field.
"Texas 4000 has taught me how to think on my feet," said Hoffman. "In the workplace you don't get to pick when a crisis comes up and the same went for when we were on the bike."
Hoffman will be graduating in the spring of 2015 and looks forward to what the future has in store.
"Riding this summer taught me to live my life by taking chances and branching out, especially when it comes to careers," said Hoffman. "Branch out when applying to firms and companies because something you think you won't like could end up being the best thing that's ever happened to you."