When the economy gives you lemons, open your own agency. At least, that's what four University of Texas at Austin graduates decided to do in March 2010 when they opened a full-service advertising agency, Tilted Chair Creative.
Co-founders Jamie Rodriguez, Mike Ihnat, Hua Liu and Rachel Deng all met in the Texas Creative sequence, one of the leading creative advertising education programs in the U.S., and graduated in 2009 in the midst of the recession. Faced with a job market in decline, only a handful of part-time jobs and the threat of the group having to split, Rodriguez, Ihnat and Deng decided to form Tilted Chair. Liu signed on soon after.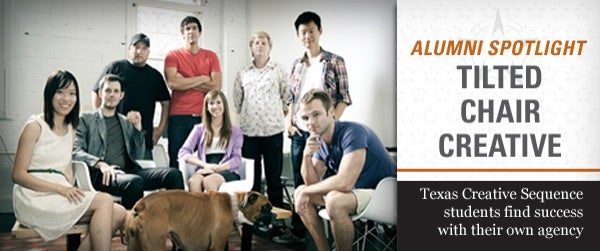 The recent graduates knew they were taking a risk, but Deng, who is now an art director and designer at Tilted Chair, knew it was necessary.
"Our creative professor Maria Rivera once told us, 'Leap, and the net will appear.' We took it to heart," she said.
The agency began in the team's living rooms with a $225 Craigslist brochure for a family friend. The real testament of their talent came when they had the opportunity to present to their first client, Southside Market & Barbecue.
"When we finally landed a web design job with a decent budget, we didn't know what to do with ourselves," recounted Rodriguez, also an art director and designer at Tilted Chair. "They said, 'We need a website.' We said, 'Sure, we can do that.' Then we dug in and figured out how to build a website. By the end of the project, we all had coded a 100 percent W3C valid website, and the client was thrilled."
Ihnat, a copywriter and Tilted Chair in-house composer, recalled how his professors said their careers would sometimes give a unique perspective on clients that other professions wouldn't normally get.
"I will never be as happy as I was that day to wear a hairnet and tour a meat-processing plant," Ihnat said of the agency's job with Southside Market. "Our professors had talked about how advertising would allow us to get some unique views of the clients that we worked with, and actually experiencing that for the first time was bliss."
After their first design job, the young team steadily built their client base and added Eric Winchester, Stacia Damron, Charlie Rall and Jake Rector to their roster in East Austin.
Tilted Chair Creative's current client list ranges from mobile apps to restaurants to e-commerce, and boasts big names such as Seton Healthcare Family, Austin AdFed and the City of Austin.
When asked how the agency manages to handle such a broad client base, a diverse team with the ability to put themselves in the shoes of the audience is cited as the essential component.
"Since we started with brand-new clients, we tend to approach each project from scratch," said Liu, art director, designer and digital photographer at Tilted Chair. "We're humble as hell…we learn as much from the clients as we give back to them."
Liu is also focused on giving back to students. With over 1,200 advertising and public relations undergraduates in the College of Communication as of the spring of 2012, the job market competition is not any getting less intense. He offers the following advice for upcoming graduates:
"All of the Creative Sequence professors are amazing. They're the ones who make the Texas Creative Sequence one of the most recognized ad schools in the world, so listen to what they have to say."
"Coming out of school with a fresh degree seems daunting, but I promise it's really not that bad. Just remember that recruiters and clients are people too."
"Good work always speaks for itself (and you'll know it when you have it), but even if you're not there yet you can always do something to stand out and be remembered."
For students interested in starting their own agency or business after graduation, Ihnat advises that it takes a patient person.
"You're going to be poor for a while, and you're going to question many times if you made the right decision," he said. "Then, you're going to start doing better and realize you're working your life away. Then you'll question it again."
"If you couldn't care less about anything in the preceding paragraph, then starting an agency might be right for you. Otherwise, look for agencies you're interested in and get an internship. Once you're there, make yourself so valuable that the owners have no choice but to hire you. It's worked like that for us and we couldn't be happier with the people on our team."